Is This The Healthiest Meal In The World?
21 Jun 2012
What do you consider to be a healthy meal? Broccoli, quinoa, hummus, grilled chicken, or salad greens? Well, tuck it all away because scientists have taken things into their own hands and rustled up the "healthiest meal in the world" and don't worry, it looks and is tasty as hell! It has been designed as an airline meal, especially for long haul flights, where passengers have no choice but to depend on the bland food served to them otherwise. Read on to know more.
1) The Leatherfood Meal
Leatherhead Food Research is a UK-based marketing and research company, which works mainly for the food industry. When its employees were thrown a challenge by their boss, CEO Dr. Paul Berryman, to create a meal that was true to the 222 valid health claims and was scientific in its background, the employees came up with the healthiest meal of the world. Speaking about the idea behind this endeavor, Dr. Berryman said, "It was great fun. I thought of the airline meal concept when flying back from Vitafoods in Geneva. I had spent three days talking about health claims and at a round table event I suggested that Leatherhead could make a product with all 222 claims (approved by the European Commission), no problem!" He came up with the idea actually while traveling home from the food conference and the company "did it within in one week," as the CEO claims.
2) 222 Claims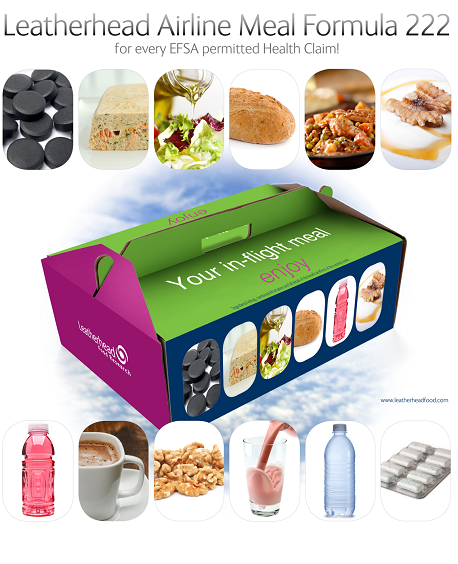 There is also an interesting story behind how the company arrived at the figure of 222 for health claims. In a press release, the company explains, "It has taken almost 5 years for EFSA scientists to whittle down the 44,000 health claims received from member states on January 31, 2008 to a final list of 222 claims." The claims were approved by the European Commission under Article 13.1 on May 16. The fact that there is always a quest for healthy meals for air travels was also a guiding force behind this endeavor.
3) The Healthiest Meal
 The scientists have designed the meal specially for long haul flights and they claim that it is stuffed with vitamins, minerals, and everything else considered healthy. In fact, the meal comes packed with charcoal tablets too, which control excessive flatulence, and sugar-free chewing gum, to freshen up your mouth and breath after the hearty meal. The meal is officially called "Leatherhead Airline Meal Formula 222 and it consists of the following:
Fresh and Smoked Salmon Terrine – It is best for brain and heart with its ALA and DHA components.
Chicken Casserole with Lentils & Vegetables – Packed with vitamins and minerals for iron absorption.
Mixed Leaf Side Salad with Extra Virgin Olive Oil Dressing -  Curbs cholesterol.
High Fibre Multigrain Bread Roll – Supplies fibre, folate, and arabinoxylan.
Live Yoghurt Blancmange – For good gut health and controlling blood glucose.
Cranberry, Raspberry & Elderflower Sports Drink – Gives your body energy with electrolytes.
Pure Spring Water – To keep your body hydrated.
The makers of this healthiest meal in the world have also thought about the health-conscious flyers and, thus, have included Meal Replacement Shakes as well as a Hot Chocolate drink for those travelers who suffer from jet lag. How thoughtful the meal is!
4) Another Attempt
Three years ago, a British chef, Gurpareet Bains, had also claimed having created the world's healthiest meal, which consists of a chicken and blueberry curry with goji berry pilaf. The 32-year-old chef included three superfoods – blueberries, goji berries, and chicken – in his meal and claimed that the meal could fight cancer as well as supply the body with anti-bacterial and anti-viral properties. Experts said that each serving of this meal had nutrients equivalent to what you could find in 49 helpings of spinach, nine portions of broccoli or 23 bunches of grapes. Bains, who is a nutritional therapist, said, "It has long been known that some foods including spices and fruits have exceptional health benefits. So combining these two genres of food stuffs seemed logical in any quest to find the world's healthiest meal. Thus, the curry I have created is brimming with health-beneficial ingredients that could, if eaten regularly, deal a devastating blow to many diseases."
Well, you don't always have to go after medical supplements or plan ahead with healthy meals to eat healthy. With these meal suggestions, there is every chance that you can eat healthy for the rest of your life.
Image Courtesy: leatherheadfood.com, leaveroomfordessert.com, healthlob.com
Is This The Healthiest Meal In The World?