Is DLT Worth All The Noise? Maybe Yes!
21 Jun 2012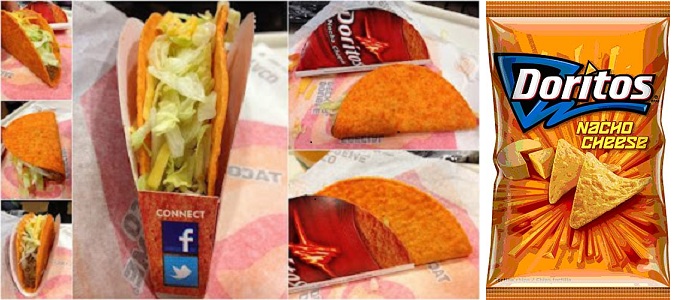 Taco Bell's latest offering, Doritos Locos Taco (DLT), make perfect business sense in terms of taste as well as the market. The clever logic employed behind this product is simple, yet compelling in its success. Just within three months after Taco Bell introduced DLT in March, it had sold 100 million pieces, thus, routing competition in the chips-inspired food products category.
The DLT was a typical Taco Bell hard shell taco, where the original shell was replaced with the tasty Doritos shell. For those who came in late, Doritos chips are what Americans love to munch on every given opportunity. So, as we said earlier, it was very smart of Taco Bell to join hands with the Frito-Lay, the manufacturers of Doritos. That is where the different lies. The DLT is available in plain ($1.49) and supreme ($1.79) categories. The shell looks like a Doritos chip, complete with the light orange color as well as the cheese seasoning.
However, the DLT shell is blander than the chips themselves. In fact, if you have noticed, while eating Doritos chips, you cannot escape having an orange dust around the corners of your mouth as well as your fingertips, especially, if you are not at all prim and propah while enjoying your bag of Doritos. In case of DLT, there is no such danger, because the shell is lightly seasoned so as not to overpower the filling, which works out fine in the end.
The DLT is mainly a marriage of two fast-food products, which have held the country's imagination for a very long time. In effect, this combo is reminiscent of such iconic encounters such as M&Ms and Stanley & Livingstone. Therefore, there is bound to come something momentous out of it like DLT being declared Taco Bell's most successful product in its 50-year-long history in place of the Crunchwrap Supreme, which is mainly a soft flour tortilla packed with seasoned beef, nacho cheese sauce, lettuce, tomatoes, and sour cream. A crunchy layer of tostada completes the package.
Greg Creed, chief executive of Taco Bell had proclaimed when the product was introduced, "Doritos and Taco filling is a flavor pairing just waiting to happen." The success achieved by this product has corroborated his claim.
Well, since Taco Bell seems to be doing everything right these days, why not give its Bacon Sundae a try as well? Never mind the 510-calorie tag, after all, momentous things come in large packs, right?
Image Courtesy: thegastrologicalgentleman.blogspot.in, leshop.ca
Is DLT Worth All The Noise? Maybe Yes!