The Age Of Robot-Chefs Is Here!

19 Jun 2012
The future seems to be here as far as making and serving food is concerned. Yes, the age of robot chefs seem to be on us now  with mechanical contraptions dishing out mouthwatering fare in the blink of an eye. The fantasy of Isaac Asimov's "I Robot" seems to have caught the fancy of many a budding scientist and avid foodie at present resulting in a plethora of machines all programed to feed us. Here are a few of the most surprising robots that can help us satiate ourselves with a sumptuous meal.
1. Let's Pizza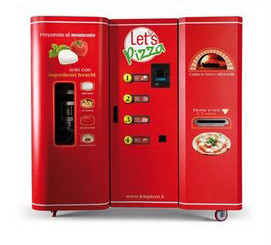 A vending machine that churns out pizza! No reason to be surprised here, a figment of  Italian imagination was converted into reality almost three years ago when Claudio Torghel of the same country succeeded in creating it. A convenience that the Europeans have been enjoying so far. But the residents of US can now take heart from the fact that it is all set to hit America very soon. Although it cannot strictly be termed as a robot, the vending machine manages to serve you pizzas untouched by human hands.
2. Chief Cook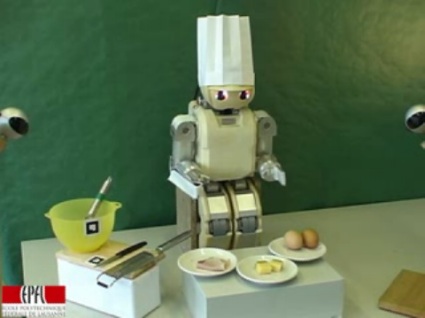 A little robot doubling up as a cook! Can life get any more bizzare? Well, this cute guy can whip up simple dishes at lightning speed. What more can one want especially when you get to dig into a ham and cheese omelet after a hard day's work without having to slog in the kitchen.
3. Okonomiyaki Robot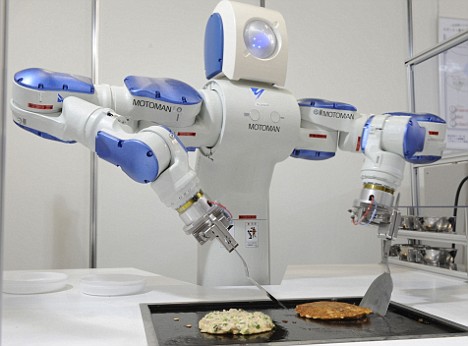 Savory pancakes served with loving hands err spatulas! The Japanese have done the impossible now. They have managed to create a robot programmed to ladle out stacks of Okonomiyaki or the Japanese version of the pancake. Technically the robot is a Motoman SDA-10 type of machine but who would care as long as you can savor the magic of its spatulas. Right?
4. Wok Robot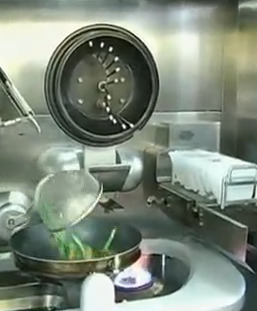 A robot standing over a wok making a Chinese meal for dinner! Did you ever imagine that this could be true? Well, two Chinese students seem to have solved the problem of making stir fries now that they have a robot manning their woks within the kichen. This super robot is capable of creating 600 different Chinese dishes too! Why go out for Chinese now?
5. Flying Taco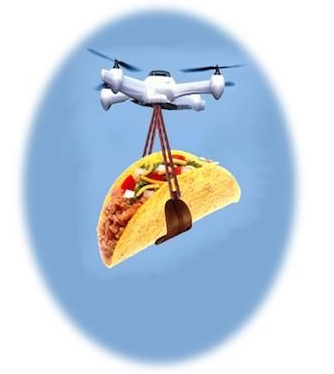 An unmanned kitchen taking orders for tacos via a smartphone and then delivering them by means of a helicopter. How convenient! The creators are convinced that home delivery would be bereft of the delivery boy one day. A pity that the US government  laws bar the taco copter from flying at present.
6. Bakebot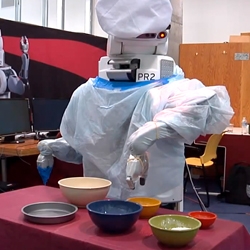 Curious minds working at the MIT's "Computer Science and Artificial Intelligence Laboratory" can get hungry too. Enter the bakebot invented by the geniuses there who can now watch their robot bake cookies from the basic ingredients. The only difference is that the spoons are licked by the consumers instead of the chef here!
7. Bartender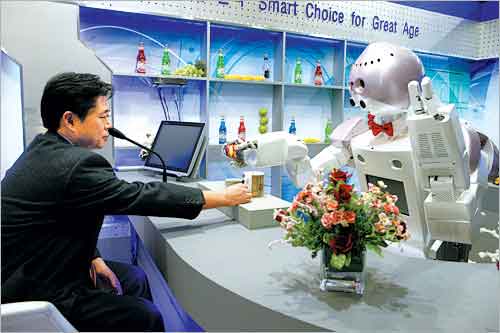 Want to drown your sorrows in drink? Well, the robot bartender is here. It sure can take your orders and execute them with perfection. Do not look forward to swapping stories with this one though!
8. Deboning Robot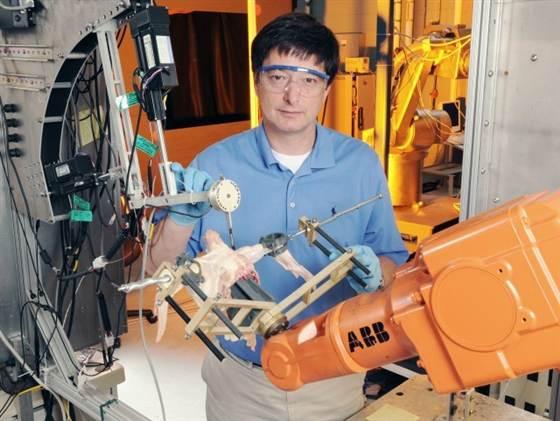 The Japanese are at it again! They have now made their work easy by inventing a robot who can debone about 1500 chickens in 60 minutes. Now that is ten times faster than a human being. Who says that robots can't cook?
9. Decorating Robot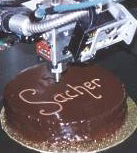 No worries if you are not artistic. Allow a robot to decorate your cake for you instead. It will do so painstakingly and you will be astonished to see it replicate the given design within seconds. No emotions or joy of creativity there though! You are free to employ it's services if you are commercially inclined otherwise why give up your creativity?
10. Filling Robot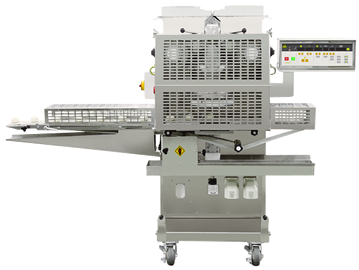 Wondering how the empanada in your hand obtained its filling? The Rheon encrusting machine might be the answer. The machine can stuff food within edible shells and can actually help a factory to churn out more than 10,000 stuffed food items in an hour.
Well, we have already read about the Sushi Bot  and BurritoB0t  but they were no flash in the pan. Robot chefs and servers are here to stay and the foodie world might soon be divided into human and non-human workers. What do you think? Will automation overwhelm the world of food? Do share your thoughts with us.
Image Credit- 3o4aldia.blogspot
authentic-connecticut-republican.blogspot
Disclaimer-The image copyright belongs to the owner. The usage of the image in this blog is purely for  entertainment purpose. No copyright infringement intended 
The Age Of Robot-Chefs Is Here!