Coca-Cola Set To Re-Enter Myanmar
19 Jun 2012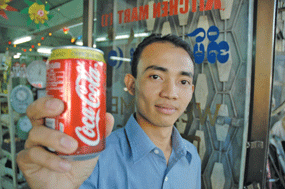 American companies dealing in fast-food products and soft drinks are aggressively looking for opportunities to expand their presence in untapped markets worldwide. The latest one to make a return journey is the Coca-Cola Co., which has announced plans to re-enter Myanmar for the first time in 60 years. The move has come as a result of the US government's decision to shelve investment sanctions against the country.
It may be imperative to mention that Myanmar was imposed with financial sanctions as a policy of the US government to force the company to implement democratic reforms. With the country easing its way toward democracy, since last year, the US government thought of suspending financial restrictions on the country, thus, paving way for outside companies to look for business ventures.
Coca-Cola, which is the world's biggest soft drink manufacturer, had not been doing business in Myanmar, in addition to two other countries, Cuba and North Korea, due to political factors. All the three countries are ruled by non-democratic regimes.
Now, the company is waiting for the US government to issue license, which would allow the American companies to start making investments in the Southeast Asian country.
The company will use its operational base in neighboring countries to supply soft drinks to Myanmar till it can get settled in the country.
Re-entering troubled markets is not a new thing for Coca-Cola, as it has done so in the past too. In 1949, when the communist government in China expelled the company, along with several others, it waited till diplomatic relations were fully resumed 30 years later and began delivering its iconic drink by train into the country. Cuba, where Coca-Cola started operating as early as 1906, is a similar case. After the Cuban revolution, the company made its exit in 1960 and since then has not operated there. North Korea is the third country in the world, where there is no Coke to drink except for the one procured from third party intervention.
Well, after Coca-Cola's renewed presence in Myanmar, the people of this Southeast Asian country would finally be able to throw a coca-cola theme party for themselves.
Image Courtesy: mmtimes.com
Coca-Cola Set To Re-Enter Myanmar