Burger King Plans Largest Expansion In Asia
19 Jun 2012
Just weeks after creating waves with its new launch, Bacon Sundae, fast food chain, Burger King (BK), is back with a new announcement. BK is set to increase its foothold in Asia, with its largest-ever expansion of 1,000 new outlets in China. The expansion will take place over the next 5-7 years and currently, BK is operating only 63 restaurants in the country. This multi-unit development is the largest in the company's 58-year-long history.
1) The Expansion
The expansion is a result of a joint venture agreement that the Miami-based chain has signed with the Kurdoglu family, which is its largest franchisee. The Kurdoglu family stands to benefit from this aggressive growth plan as it would become Burger King's largest global franchisee after this. For this purpose, Cartesian Capital Group will be providing the necessary financial resources. The family, which operates TAB Gida currently, is already Burger King's largest international franchisee. It has proved its expertise in the business by taking the brand from just one restaurant in Turkey to more than 450. It is, therefore, natural that the fast food chain must be expecting the family to replicate its success in China as well.
2) The Plan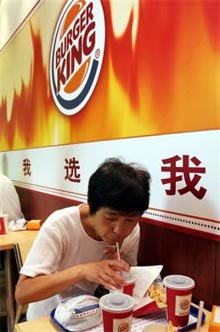 Elias Diaz Sese, president, BK Asia Pacific, told the media why they are expanding their presence in China, "Expanding our brand's presence in China further exemplifies our company's commitment to strengthening our global restaurant portfolio and establishing a strong brand presence in key growth markets around the world." Sese further adds, "We have partnered with solid investors and experienced restaurant operators to accelerate our net restaurant growth in China, while introducing our signature great-tasting, fire-grilled menu items to millions of consumers in the country." In response, Erhan Kurdoglu, who will chair the new venture, said, "We are very excited to expand our relationship with Burger King and further establish the brand's presence in such an exciting, active market with a vibrant economy and substantial growth potential." However, China is not the only place that BK has set its sight on. Apart from the Asian giant, BK is also going to expand its presence in countries like Russia and Brazil, for which it has already announced joint ventures. 
3) The Competition 
BK already operates 12,500 restaurants all over the world, in partnership with local operators. The joint venture in China is purely motivated by business sense, especially because its rival, McDonald's already has 1,400 outlets in the country. In comparison, just 63 outlets doesn't make good business sense for the fast-food giant. In addition, other fast food chains like Pizza Hut, Taco Bell, and KFC are also planning similar expansions in markets abroad. Moreover, China's changing image and opening market has made things easier for western fast food chains to gain an increasing presence. Chinese are showing more interest in fast-food items, such as instant noodles, of which the country is the largest consumer in the world. As a result, it makes good business sense for BK to consolidate its position in the Chinese market.
With the Burger King announcing its 1,000-store-expansion to the world, it remains to be seen, how the competition reacts to this  move.
Image Courtesy: beijingtaotie.blogspot.in, tormo.com
Burger King Plans Largest Expansion In Asia