Shipwreck Champagne Sells For $156,000!
11 Jun 2012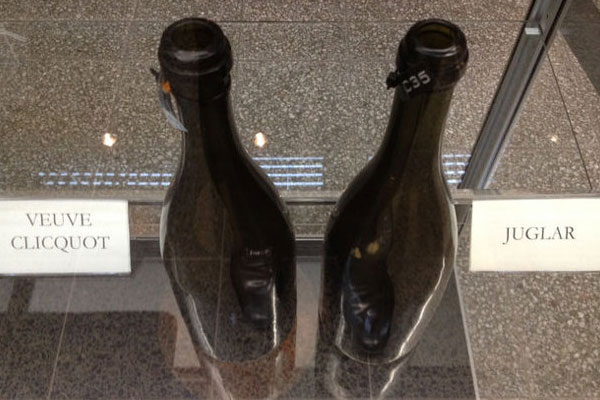 After spending more than a century at the seabed, eleven bottles of, perhaps, the world's oldest champagne, found themselves at a Finland auction, where they were sold for more than $156,000.
Out of these 11 bottles, six are Juglar, four Veuve Clicquot, and one Heidsieck. Out of these three houses of champagne, Juglar disappeared way back in 1829. In the last sale, a bottle of the same lot had auctioned for a record price of $37,720. The bid was placed even though the Paris-based auction house, "Artcurial Briest-Poulain-F.Tajan," had placed the bottles' value at just 10,000 euros each. Ever since then, the champagne makers had been watching the bids more closely.
The auction took place in the town of Mariehamn, located in the archipelago. The champagne was found stored inside the shipwreck and the bottles were in perfect condition. While Clicquot received the top bid of 15,000 euros, the first bottle, the Heidsieck, was sold for 11,500 euros.
The bottles were found after a shipwreck was discovered in the Baltic sea in 2010, just off the Finnish-controlled archipelago of 6,500 islands between Finland and Sweden. A total of 162 bottles were discovered by the divers, out of which 79 were not in a state of being consumed. It was an amateur diver, Christian Ekstroem, who brought the first bottle up. He said, "We didn't know what we had found at first. I brought a bottle up and the closer I got to the surface, I had to hold the cork down with my thumb. It popped when I was in the boat, so we poured some into cups. We had no idea how valuable it was."
However, Ekstroem has a grouse. He says, none of the eight divers, who discovered this treasure at the seabed, have received any compensation. He complains, "We've had nothing, not even a thank you." However, he is not disheartened. Ekstroem, who manages a pub in the Stallhagen brewery, on the outskirts of Mariehamn, is going to recreate the recipes of the champagnes.
This may remind you of a 2400-year-old salad dressing, found similarly, inside a shipwreck, which was in perfect condition and later sold at an auction. The dressing, however, did not invite as much in terms of a bid as the champagne bottles.
Image Courtesy: ballerstatus.com
Shipwreck Champagne Sells For $156,000!