Thai Artist Bakes Grotesque Breads!
8 Jun 2012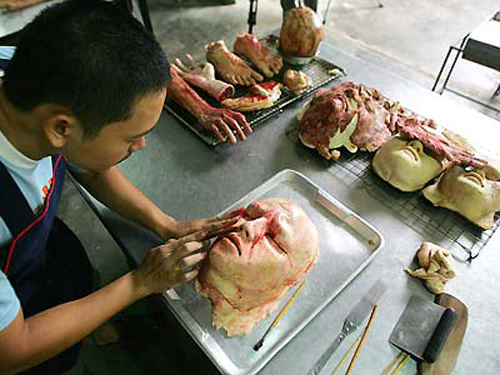 This is a bread you would never want to eat first thing in the morning. However, that is the least of the concerns of the Thai artist Kittiwat Unarrom, who continues to bake and decorate bloody human body parts out of flour and yeast. Yes, this grotesque form of baking art has been perfected by Unarrom for quite some time and his breads are selling like hot cakes despite the icky factor.
He started creating human body parts, complete with blood and gore, in 2006. Doing so was easy for him because his family was already into the bakery business in Ratchaburi, Thailand. Apparently, there is a long line of people outside his bakery every morning to purchase these gory breads.
The thought behind such repelling art is the transient nature of life. Unarrom explained it in a 2010 interview, "My family is in the bakery business and I learned to bake when I was about 10. I want to speak out about my religious beliefs and dough can say it all. Baking human parts can show the audience how transient bread, and life, is. Also, my bread is still bread no matter how it looks."
Unarrom bakes every body part, be it internal organs, feet, head, or hands and then hand-paints each bread to give it an authentic look. He uses dough, chocolate, raisins, and nuts to achieve the right look for the finished product.
Taking food and art to a different level, artists have been doing this for a long time, wherein they give food items a new shape altogether, either to convey a concept or a thought, or just to teach people the fatality of life. Ben Campbell is one such artist who created a life-size Egyptian Mummy out of McDonald's burgers and fries. He is even looking for buyers for his works of art.
Whether someone is going to give the same respect to Unarrom's breads or not is not known yet but people are purchasing his breads, and eating them too whether it be the torso, head or feet. But one thing's for sure, his shocking breads will force you to think hard about life and its aftermath.
Video Courtesy: youtube.com
Image Courtesy: laughingsquid.com
Thai Artist Bakes Grotesque Breads!