Taco Bell's DLT Routs Competition!
7 Jun 2012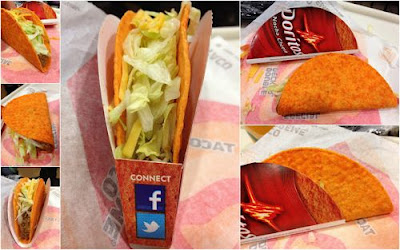 What would you call a product that has sold over 100 million pieces in less than three months since its launch? Of course, the most popular product ever and that is what Taco Bell's "Doritos Locos Tacos" is, now that the figures are in. In fact, this is the Taco Bell's most popular product, also known as the DLT, served in the restaurant chain's 50-year-long history.
Priced at $1.29, the DLT have nacho shell flavored with cheese, and served with a stuffing of seasoned beef, tomato, and lettuce. And it seems the combination has appealed to the taste-buds of the patrons in a big way.
When the reports emerged that the chain had sold more than 100 million DLT in about 10 weeks, Taco Bell was quick to point out that it took McDonald's 18 years to sell its first 100 millionth burger and that was way back in 1958. The DLT is selling much better than the former top product of Taco Bell, "Crunchwrap Supreme."
Last year, Taco Bell was sued for having not enough beef in its filling, and although the suit was dropped three months after it was filed, it did enough damage to the chain's goodwill and sales. Now with the DLT success story, things seem to returning to an even keel and Taco Bell is quick to capitalize on it by launching new flavors for its tacos – "Cool Ranch Hot and Spicy."
Although, those who have been following the DLT right since its launch, accompanied by a massive media campaign, will agree that the volume of sales is not all that surprising. After all, DLT came backed with Taco Bell's "biggest product introduction in history."
Riding high on the success, Greg Creed, the President and CEO of the restaurant chain, said to the media, "It was an idea so simple and brilliant…a flavor pairing just waiting to happen. Taco Bell founder Glen Bell has been recognized for his 'Recipes for Success.' At the top of that list: the best ideas often are the most simple."
Amidst all this hoopla, wouldn't you be wondering what effect would a 100 million DLTs have on us nutritionally? Well, here is the dope on what a single DLT can get for you – 170 calories, 25mgms of cholesterol, 340mgms of sodium, and 9gms of fat. The Supreme version will have 18% more calories, 40% more cholesterol, and 22% more fat. Although, there is a healthier version too, which cuts down the fat to 8.25gms, but who opts for that, right?
When Taco Bell started conducting the tests of the DLT shell, it had never imagined that this would end up being its most popular product ever. However, the writing on the wall is clear and it says that DLT is here to stay!
Image Courtesy: thegastrologicalgentleman.blogspot.in
Taco Bell's DLT Routs Competition!