Brady Plays For The Buddies While Fieri Grills

5 Jun 2012
Footballer Tom Brady took his duties as the ambassador of the Best Buddies organization seriously this weekend as he participated in the 13th Annual event, "Best Buddies Challenge: Hyannis Port". The "New England Patriot's" star  along with Guy Fieri, the celebrity chef and Food Network host,  decided to help the cause and both of them did what they were best at. Brady enthralled the fans with his footwork at football while Fieri cooked up a storm as he handled the grill with skill and enthusiasm in equal measure.
The festivities were all about creating opportunities and sharing a few friendly moments. It turned out to be a huge success as the Best Buddies managed to collect $4.5 million which will go for providing employment and equal opportunities for people who are intellectually and developmentally challenged. Brady has been associated with the organization for over a decade now.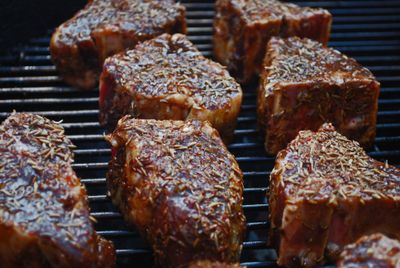 Food remained the focus of the tailgate party after the event and the crowd saw Fieri stand at the grill dishing out pit beef sandwiches and grilled lamb loin chops accompanied by a mint based pesto sauce. About 1600 people were present at the party held for the top supporters of the cause which followed the friendly match where Tom Brady acted as the Quarter Back along with other Best buddies participants, friends, supporters and colleagues.
The guests at the party were served with Fiji water and Patron drinks before they could sample the sumptuous fare cooked by Guy Fieri. Bacon wrapped shrimps, grilled wings  and Ahi tacos  were some of the appetizers served while the guests were free to choose from the lavish buffet laid out for dinner. Cajun chicken, Long Beach Slaw and Alfredo penne  were the specialties offered but the grilled Bloody Mary Flanked Steak proved to be the highlight of the party, agreed the satisfied participants of the event.  
Image Credit- people ; mmm-yoso.typepad 
Disclaimer- The image copyright belongs to the owner. The usage of the image in this blog is purely for  entertainment purpose. No copyright infringement intended.
Brady Plays For The Buddies While Fieri Grills