Woman Gets Two Eggs For Price Of One!
4 Jun 2012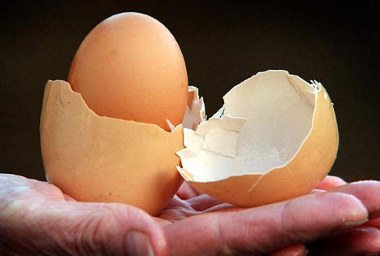 It was a regular day at farm for Cookie Smith, who lives in Abilene, Texas as she went about collecting eggs from her chicken coop. Little was she expecting to get two eggs in one out of the daily haul of eggs that her three hens laid. But that is exactly what she ended up harvesting the other day.
Smith calls it a "mutant super egg" and she said that she couldn't stop laughing when she first saw the super-sized egg in the nest of the three hens – all of which had been scrawny little creatures whom she had picked up in Clyde and then reared on her farm. Since all the hens looked normal, she was not sure which hen had laid the giant egg.
Describing the egg, Smith said, "I brought it in to show (her husband) Leonard, and he just said, 'Bless her heart.'" The egg was longer than a normal egg by almost an inch and it weighted at least 145 grams, something that she later confirmed with her kitchen scale. The normal eggs weight between 45-55gms.
Smith was so excited by the turn of events that she took pictures of the egg, stuck some of these to her refrigerator and also showed it to her co-workers. Describing the reaction of her co-workers at the "Hendrick Medical Center, Smith said, "They (co-workers) were just blown away. One of the doctors said he's nearly 80 years old and he'd never seen anything like it. I didn't think it was that special, but everyone said I needed to call the news about it."
However, the surprise was not over for the Smith family. As the giant egg was cracked, out slipped a complete egg, covered in white and yellow mess. The "National History Museum" at Tring in the UK, has described such an egg as a "double egg," which is a rare occurrence in the world of poultry. This happens when a developing egg is forced back into the ovary of the bird and covered in another egg. Both the eggs then develop as one.
Although, the scientists have deemed both the eggs as perfectly ok to be consumed, Smith and her husband are not taking any chances. Just wondering, would anyone be ready to pay a hefty amount for this double egg, just like some people are paying $1,000 for a caviar-laden omelet in the New York? Well, that is for the Smiths to say.
Image Courtesy: onlineweblibrary.com
Woman Gets Two Eggs For Price Of One!