Pizza Hut Declares War On Subway With 'P'Zolo'
4 Jun 2012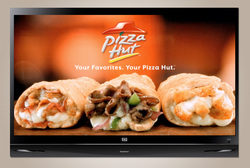 It is common knowledge that the fast food giants keep clashing with each other over common turf or products to gain an upper hand. We saw this when Subway overtook McDonald's in the race to be number one chain and now it seems that Pizza Hut is on the warpath with Subway over fast food supremacy. Pizza Hut's latest offering is a sandwich-like product, called "P'Zolo," which is shaped and priced like the Subway sandwiches. This is a direct attack from one fast food chain on another and it is bound to get dirtier.
1) The Pizza-Sandwich
"P'Zolo" has landed on the media horizon like a blistering asteroid with the pizza chain arranging for a multi-pronged publicity blitzkrieg for its launch. There are TV campaigns, print ads, online advertisements, which are announcing the arrival of the newest member of the Pizza Hut menu. The theme behind the whole campaign is taking on the Subway products, which has lines like these – "Say so long to a footlong," and "More bang for your 5 bucks." One of the highlights of the campaign has been a Chicago subway train, which the Pizza Hut has wrapped up in its own ad, which reads, "See ya subs. This is the P'Zolo." The Richmond-based Martin Agency is the force behind this media campaign and it has left no stone unturned in sending direct barges to Subway.
2) The 'P'Zolo'
Available in three flavors, this sandwich holds a lot of punch and ingredients. The three flavors are – Buffalo Chicken, Meat Trio, and Italian Steak. The sandwich is priced at $3 per piece or two for $5, so in the price zone too, the chain is taking on its rival head-on. The "P'Zolo" has created media hype unlike any of Pizza Hut's earlier gimmicks like the "Crown Crust hamburger pizza" and the "$10,000 engagement package."  
3) The Past Attempts
The "P'Zolo", however, is not the first attempt by Pizza Hut to take over the sandwich market. It has done so in the past, with its pizza-style calzone, "P'Zone" (No marks for creativity!!!). This has been due to market reports that "more consumers report purchasing sandwiches away from home today versus just two years ago." When asked what makes the pizza chain go for new products on its menu, Kurt Kane, chief marketing officer of Pizza Hut in Plano, Texas, said, "We want to give consumers a new opportunity to access the brand. They consider the "young adult males" as their "core consumers," by the way.
4) The Reality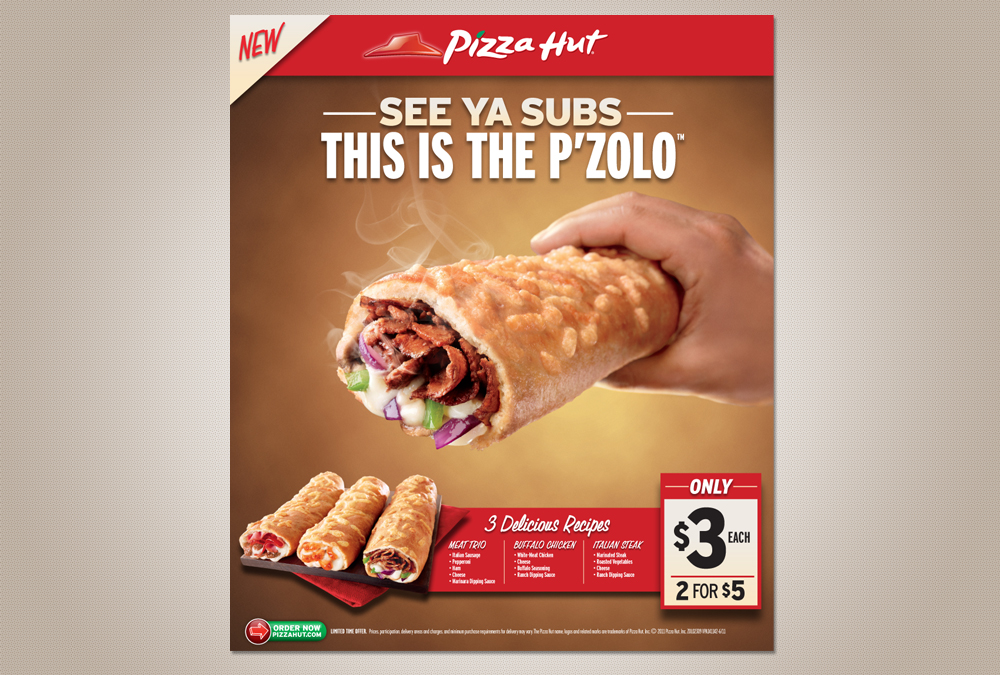 While Pizza Hut is ready to "pick a fight with sub players today on consumers' behalf," it is already marketing its "P'Zolo" as "the antidote for the everyday sandwich." The sub players, which the chain is going to take up include Subway and Quiznos, as well as Domino's Pizza, which have their own line of sandwiches. However, with Subway already being the "largest sandwich chain", the "P'Zolo" will require a lot of effort to make a dent in its target. And if Kane's statement is any indication, they are ready for it. Kane said, "We're really coming out all guns a-blazing."
5) The Details
The media campaign launched by the Martin Agency for "P'Zolo" has all the ingredients to make it splash across the nation's mediascape. Right from subway promotions to television commercials, online ads, prominent placements, and, a Facebook game, "See ya sub" – everything is meant to help "P'Zolo" take on the mighty sub. In fact, Andy Azula, group creative director of Martin Agency, had this to say, "(Pizza Hut) wants to put the target on Subway and the whole lunchtime sub shop category… because now we have a great product that's a replacement."
6) The Subway Retort
The Subway is surprisingly very low-key about the campaign, which directly targets its most important product. Tony Pace, global chief marketing officer at one of Subway's outlets, said, "We've got a healthy respect for the competition in our category over all. Having said that, imitation is the most sincere form of flattery, and we're flattered that others are asking, 'How can we get a piece of that?'" He is not even worried about the same pricing, because he thinks, "there are many $5 offers out there but none has resonated and stuck the way ours has."
This is not the first time that Pizza Hut has tried to break out of the pizza chain mould. it did so earlier with pasta and it is doing it again with sandwich now. So, for now, it seems Pizza Hut and Subway are stuck in a one-way war, which will be decided only after America gives its verdict on the "P'Zolo." Till then, just wait and watch!
Image Courtesy: erictharris.com
Pizza Hut Declares War On Subway With 'P'Zolo'