Monkey Party For The Queen

31 May 2012
It is a time of celebration for the Queen. The British Monarch will be celebrating her 60th year of ascendency to the throne and the entire country has been caught up in the flurry of special activities to mark the occasion. But did Her Royal Highness expect monkey tricks here as well? We cannot be sure of that but the simian guests at the tea party laid out lovingly for them at the "Wiltshire Longleat Safari Park" did indeed seem to have the time of their lives sampling the delicacies and playing with the banners as well as the Union Jack.
The 100 odd primate guests appeared to be reserved and dignified in keeping with the solemnity of the ceremony as they approached the tea table but all hell broke loose once they got to eye the mouth watering array of sandwiches, cakes and fruits on the table.
The treats included jelly filled cupcakes, bananas, strawberries and grapes. The monkeys made short work of it while a few of them also tried chewing the Union Jack. Thankfully the taste didn't appeal to all so it was back to the goodies soon.
Here's a lowdown of the event.
Good Bye Fairy Cakes! The monkeys have a rip roaring time tasting the dainty delicacy.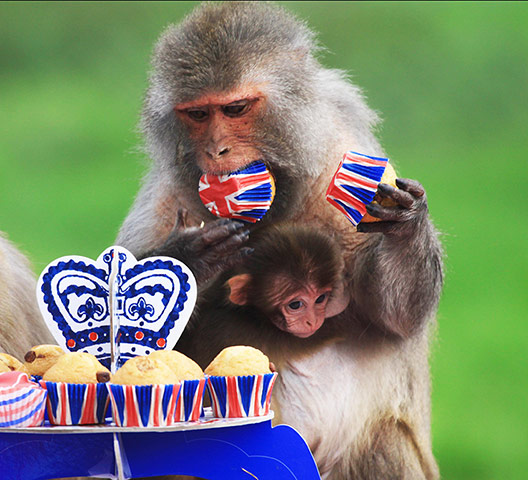 Mom Ape seems keen on getting a solitary taste of the cupcake wrapped in National colors. Her helpless infant is held down firmly as she focuses her entire attention on having the cake and eating it too!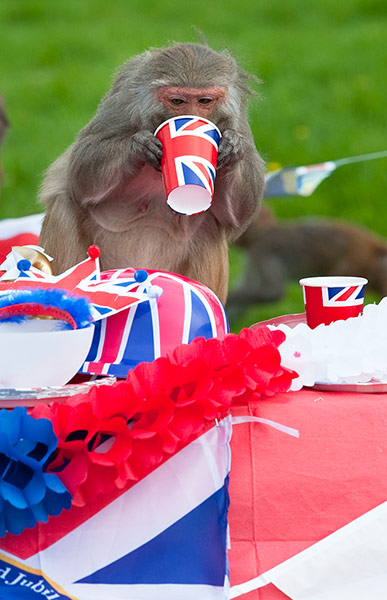 Is there something to drink? Partying is thirsty work for sure!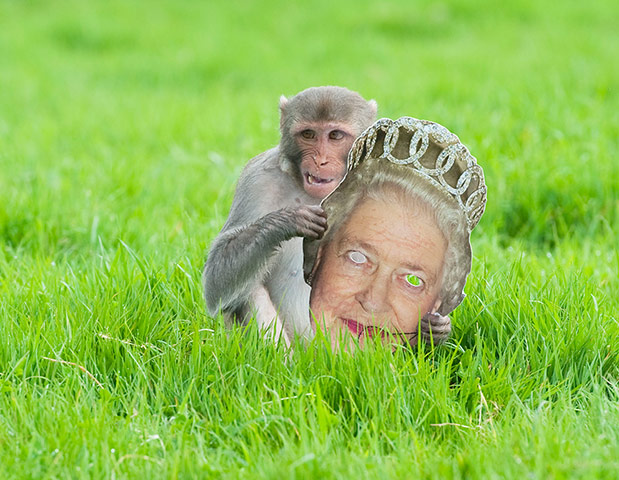 All's well that ends well! Hail the Queen! The monkeys wish her many more years on the throne!
Image Credit- pawnation ; guardian
Disclaimer- The image copyright belongs to the owner. The usage of the image in this blog is purely for  entertainment purpose. No copyright infringement intended.
Monkey Party For The Queen