Taco Bells' New Drink Is Sue-Able!
30 May 2012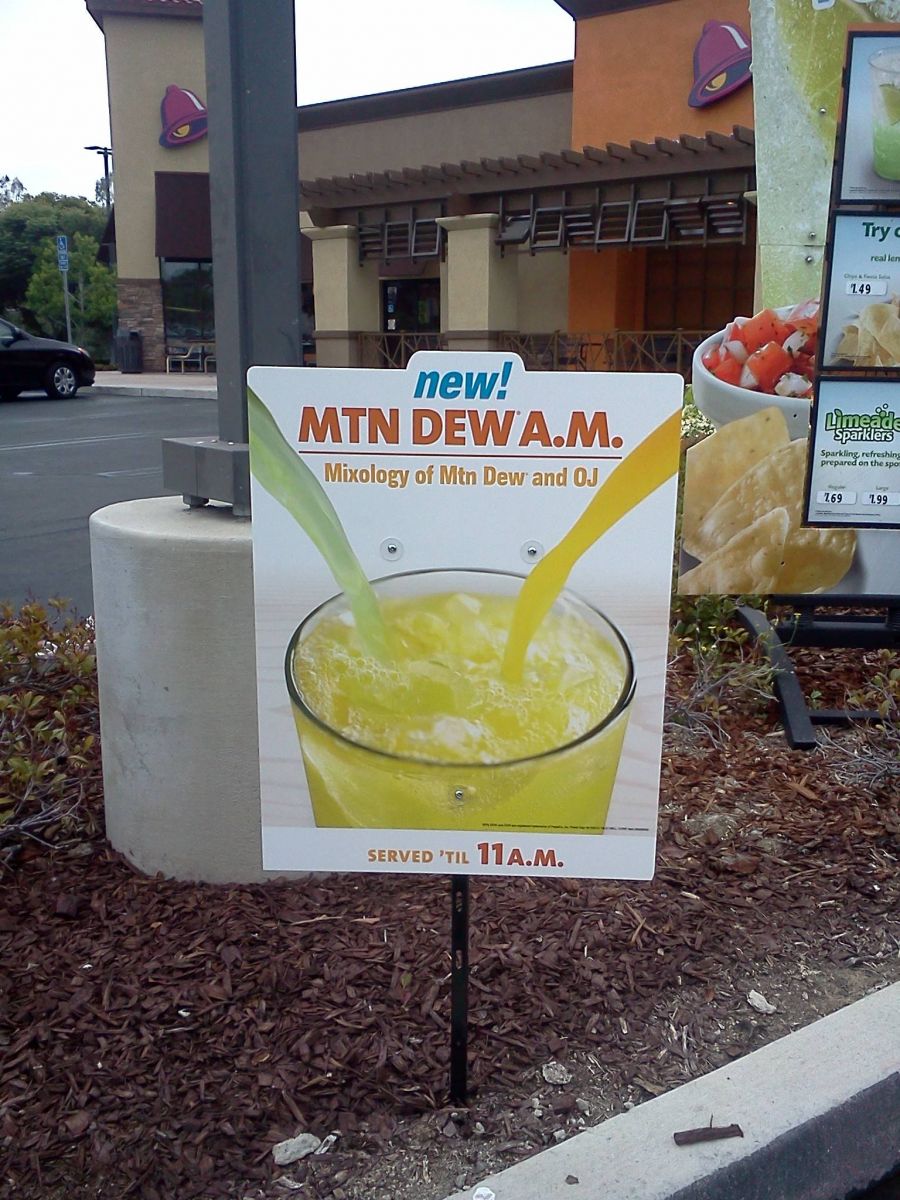 Taco Bell should seriously be sued for this one. After bombarding customers with its ridiculous Doritos Locos Tacos, it has gone ahead and hit a new low in nutrition-less offerings on its menu. The breakfast burritos served at the restaurant chain will now have the "perfect drink" for company – Mountain Dew A.M.
Stop scratching your head over the A.M part – this drink is basically a cocktail of Mountain Dew and OJ (orange juice for the uninitiated!). The reddit.com was the first website to carry a picture of a sign put up outside on of the Taco Bell outlets, selling this drink.
The sign described the drink as a "mixology of Mtn Dew and OJ" and informed the customers that they could have it only till 11 A.M. The Reddit page on which the image of the sign was carried is full of reactions from amused readers, who have even penned monikers for the drink like "Dewdriver," "Where can I get one?", and "Morning Dew."
Some of the readers have even questioned the nutritional value of this drink, calling it a mixture of caffeine and vitamins. Some of the Redditors even pointed out that the only thing missing in the drink is vodka.
Taco Bell has done many outrageous things in the past like offering 10,000 million tacos free to its loyal customers over Facebook and this drink seems one more in the list.
Well, committing suicide over breakfast has never been a popular option but if you are looking to do so, by stuffing insane amount of sugar down your throat, then Taco Bell may be the right place to go!
Image Courtesy: reddit.com
Disclaimer: The image copyrights belong to its owner. The usage of the image in this blog is purely for the entertainment purpose. No copyright infringement intended.
Taco Bells' New Drink Is Sue-Able!