Every Dog Has Its Cake!

29 May 2012
Dogs have been etched in stone many a times and have also been immortalized in an artist's easel. But did you ever imagine in your wildest fantasy that you could literally have your dog and eat it too? Yes, I am talking about the quaint, artistically crafted doggie cakes that has taken Britain by storm now.
The makers of this delightful confectionaries are Eddie Lebeau and Rich, her business partner who looks after Cake Doggy Dog jointly. The artists or confectioners are from the South West part of London and have created doggy cakes so realistic that you have a feeling that they'll jump at you from their plates and lick your face.
The idea grew in the minds of the duo after they had successfully baked a mad bulldog cake for one of their friend's birthday bash. The project took off with a bang and there has been no looking back since then. The entire idea revolves around depicting even the smallest detail with finesse so much so that the people are loathe to eat it.
The makers also claim to recreate your favorite pet by means of flour and sugar, imbibing its character and personality in the cake as well. Each cake comes in the regular size and can be divided into 25-30 slices. Vanilla, red velvet and chocolate happen to be the most popular varieties while the special cupcakes are available in unique flavors including clouded blue sky and   Scarlet Red Lake.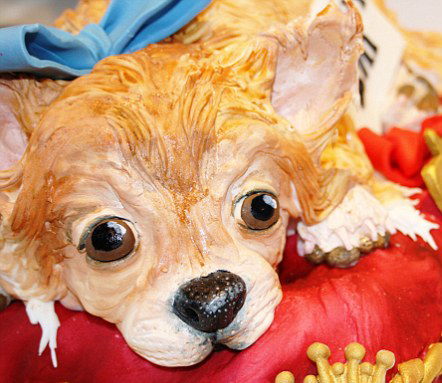 Famous names like Pudsy, the winner of Britain's Got Talent and the queen's corgi have already been created to perfection.
Do take a look at the cakes and decide whether you would rather opt for a cake dog instead of a hot dog now! Man's Best friend has never had it so good before and you are welcome to bite into the delicious canine creations and be assured of not receiving even a woof in return.
Image Credit- cakedoggydog
Every Dog Has Its Cake!