Now, Finger Food Has A New Meaning!
28 May 2012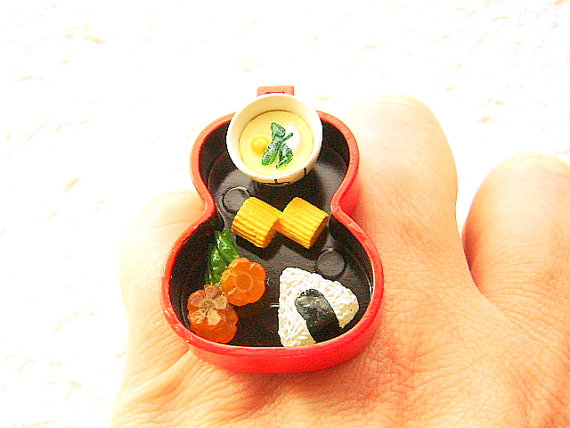 You may have worn your heart on your sleeve, now it is time to wear your food on your fingers. At least, that is what Sofia Molnar, a Canadian artist, based in Japan, intends for you. The "Kawaii Movement", which means cute in Japanese, has inspired Molnar to create unique Jewellery pieces based on everyday food items. Her collection, which celebrates food and fashion, is up for sale online on reasonable prices. But are you ready for this kitsch-wear? Read on to find out:
1) Molnar's Vision
The artist lives in Japan with her husband and she creates tiny rings with intricate details out material like metal, plastic, wood, and all held together with glue. Her creations can be used to customize a special meal shared between a couple or to rejoice your favorite food. She sells her Jewellery under the store name "SouZouCreations" and you can order it online on Etsy.com. In her online profile, Molnar writes, "Plastic food is really popular here in Japan. This idea of plastic food just caught my imagination and then I found mini versions I had an ah-ha! Moment and just was taken by inspiration." Her creations are mostly taking inspiration from the Japanese way of presenting food. In Japan, food is arranged on the platter or the table in a particular way so as to display all the color and qualities of the ingredients. She has taken this ideology and replicated it in plastic and other miniature forms. Her miniature rings have a fan following in both Japan and America, especially because they represent a sort of "Alice in Wonderland" view of things, which appeals to young and adults alike. Described below are some of her breath-taking creations, which might tempt you to place an order too.
2) Sushi Food Ring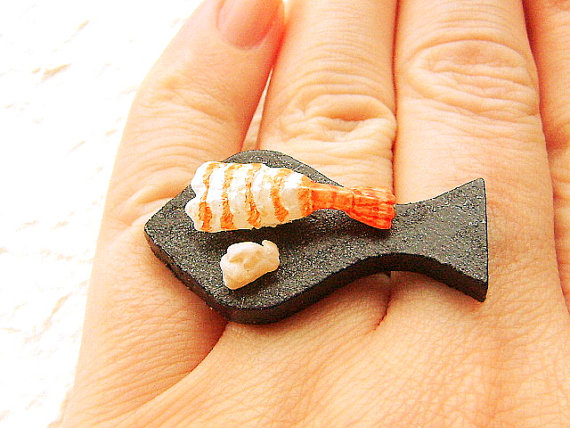 As you can see, this ring is so cute, it comes with a base of fish and a top of ebi sushi and pickled ginger. Pickled ginger! In a ring, who would have thought?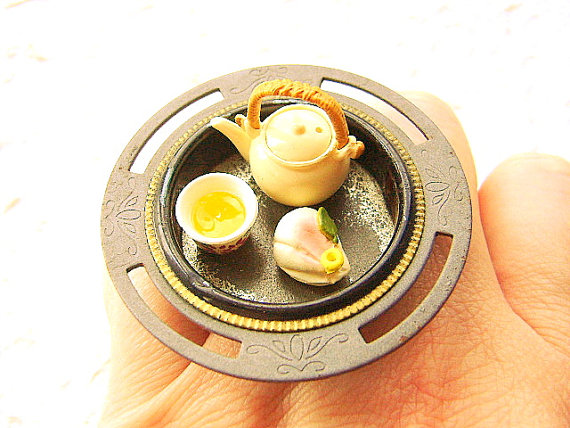 3) Wagashi – Green Tea Ring
This ring is a vintage piece, with a base of Japanese metal door pull, traditionally used in sliding doors in Japan. The ring has a pot of green tea, a cup as well as Wagashi, which is a Japanese sweet.
4) Coffee & Donut Ring 
This one's more American than Japanese and it comes all packed with a cup of coffee, a donut, a pack of sweetener, and even a stir stick. Hope the Starbucks is reading this!
5) Fruit Sandwich Ring
Japanese love sweet sandwiches more as compared to savory ones. Cashing in on this love, Molnar has designed a ring that has cream with strawberries and kiwi on a pink plate. Your little girl would love to wear this one to school or to a friend's birthday party.
6) Pink Hearts Ring 
This cool ring has plastic ice-cream filled pink hearts, heart-shaped balloon and a heart-shaped cookie. The ring is complete with candies and sprinkles, which speak a lot of about the artist's imaginative ability.
7) Corn Chips Ring
A ring representing a very popular Japanese snack-combination! It has a glass of sake and a plate of corn chips and cheese. You cannot eat it but you can wear it to a pub for sure!
8) Blueberry-Coffee Ring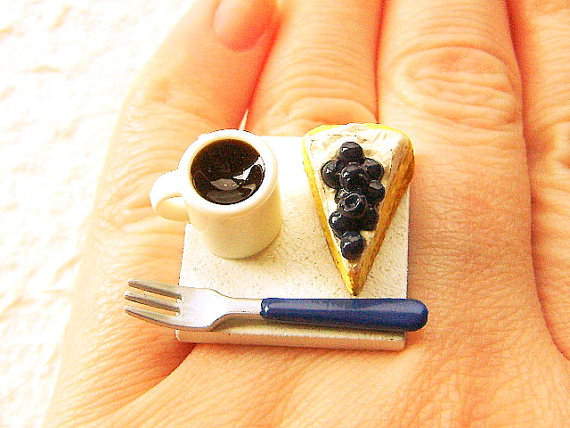 This one is again with an American flavor. The blueberry cheesecake would appeal to the girls and the coffee combo will definitely tug at the guys. So, you can buy it for yourself or your boyfriend can buy it for you!
Molnar's work reminds one of the "Matter of Taste" exhibited by Fulvio Bonavia a while ago. These rings, with miniature food representations, are mainly used as bling items, to be worn on special or ordinary occasions. Since a lot of material goes into making them – like glass, metal, ceramic, and plastic – you would think they are costly but they are not. And in case the pieces of the rings come apart, all you have to do is pick a good quality glue and stick them back together.
Image Courtesy: etsy.com
Disclaimer: The image copyrights belong to its owner. The usage of the image in this blog is purely for the entertainment purpose. No copyright infringement intended.
Now, Finger Food Has A New Meaning!