World's Most Expensive Burger Is At Serendipity 3
28 May 2012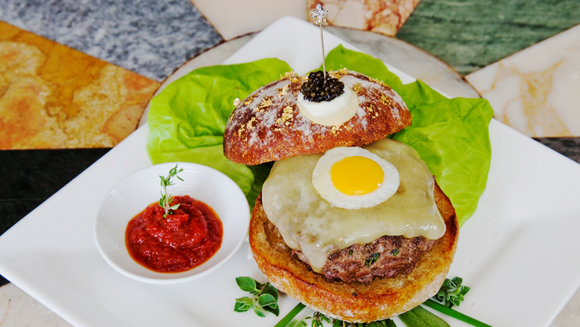 Just last week, you read about the "Meatiest" sandwich in the world made by "Food Network" Chef Tristan Welch in honor of "Man V. Food Nation" series to be launched in the UK shortly. Now, the focus has shifted to a shocking $295 burger, being touted as the "World's Most Expensive Burger." What's more! It even has the stamp of approval from the Guinness Book of World Records. Well, the only thing you can do now is to keep your wallets well-hidden!
The burger was invented at the New York-based "Serendipity 3" restaurant in honor of the National Hamburger Month, which is May. The burger comes loaded with a whole array of ingredients such as – Japanese Wagyu beef, cheddar cheese, black truffles, fried quail egg, crème fraiche, blini, white truffle, and Kaluga caviar. The beef had white truffle butter, 10 different herbs, and was seasoned with Pacific sea salt smoked with Salish Alderwood. The cheddar cheese had been hand-made and aged over 18 months at the celebrated cheesemakes James Montgomery in Somerset, England.
However, that is not all there is to the burger. The chefs also put in a solid gold and diamond encrusted "Fleur de Lis" toothpick to keep all the things together on the plate. The toothpick was designed by New York-based jewelers, "Euphoria." This last touch is, probably, what nailed the $295 price tag for the burger and helped it enter the Guinness Book of World Records!
There is a charitable twist to the burger tale. The restaurant, which invented the burger, has decided to donate all the proceedings from it, to the Bowery Mission, which feeds the destitute New Yorkers.
If you want to join in the noble cause, you will have to give a 48-hour notice to the restaurant and the burger shall be available to you only for a limited time period during which interested parties can partake this world record invention.
Image Courtesy: guinnessworldrecords.com
Disclaimer: The image copyrights belong to its owner. The usage of the image in this blog is purely for the entertainment purpose. No copyright infringement intended.
World's Most Expensive Burger Is At Serendipity 3