World's 'Meatiest' Sandwich Unveiled!
25 May 2012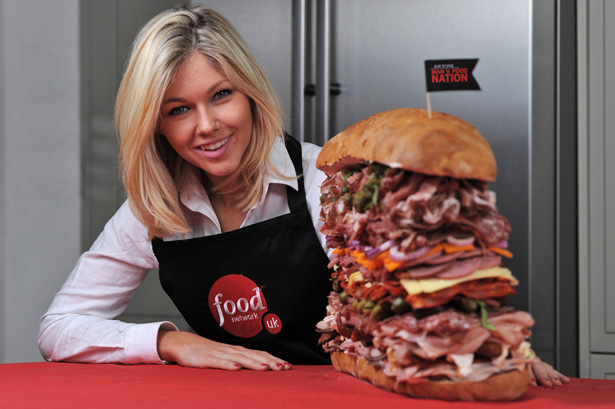 America's very own foodie, Adam Richman, can take a bow! His unrelenting obsession with food has spawned a whole generation of food-crazy Americans across the length and breadth of the United States. Now, his latest venture, "Man v. Food Nation", has ended up inspiring the "World's Meatiest Sandwich." The sandwich was, in fact, made to celebrate the launch of Richman's latest show on the "Food Network" in the UK.
The sandwich, called "every carnivore's dream sandwich", has been created by "Food Network" chef Tristan Welch. Welch, who has earlier worked as the head chef at Launceston Place, is famous of his recipes such as – "Easy Custard Ice Cream, Stargazey Pie, and Doughnut Sticks with Spiced Chocolate Dip."
Therefore, it comes as no surprise that he should want to create something this meaty. In fact, ever since Richman's new series began telecasting on TLC, the word 'carnivore' has acquired a new meaning in the public lexicon.
Now, this sandwich is all meat, as Chef Welch claims and he shows how to make it in a breathtakingly-paced video. The chef has used 41 cuts of meat, which include – 1,445gms of ham, 2kg each of salami, bacon, and turkey, 1kg sausages, and 720gms of chorizo. It takes four hours to make and meat is not the only thing that goes into it. The chef has also used salad greens, cheese, and gherkins to complete his massive creation. No wonder, this sandwich stands 15 inches high, weighs more than two stones, and takes about 10 hours to eat.
Praising Chef Welch's 'meaty' attempt, "Food Network's" Nick Thorogood said, "The world's meatiest sandwich is an epic creation. We expect only the very brave will take on the challenge and attempt to eat it."
We say, how about asking Adam Richman to take up the challenge? Now that would be one episode worth watching! After all, it is not for nothing that Richman's show has been adjudged one of the top 5 food shows on television.
Image Courtesy: wearehq.com
Video Courtesy: youtube.com
World's 'Meatiest' Sandwich Unveiled!