China Is Eating The Most Instant Noodles & Lovin' It!
24 May 2012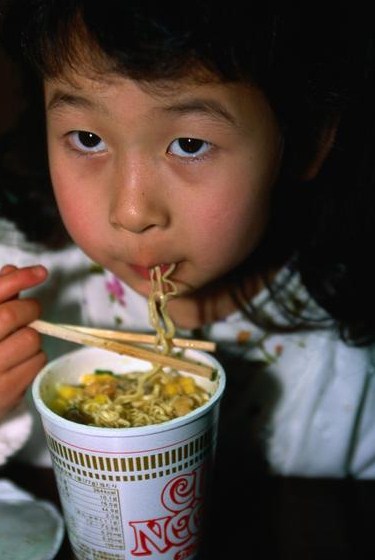 China is gobbling up instant noodles and how! It may not come as a surprise to you because, after all, it is China and noodles, which really are inseparable in the public lexicon. However, the figures thrown up at the "World Instant Noodle Corporation's "(WINA) latest summit are worth taking note of. If you are interested in instant noodles or China or both, read on to know more:
1) China and its Noodles
Chinese ate about 43% of the total amount of instant noodles gobbled up in the world last year, which amounts to 42.5 billion packets of instant noodles in a year. To decipher it further, Chinese are eating as many as 100 million packets of instant noodles in a day. Now is that finally clear to you? China and instant noodles are closely related. However, the spoke in the wheel is that the per capita consumption of instant noodles in the country is not in keeping with the whopping amounts that the whole country eats. It is just 32 packets of instant noodles per capita, which is way less than what its neighbors are eating. South Koreans eat 69 packets per capita in a year while Indonesia eats 63 packets.
2) WINA Summit
The 8th World Instant Noodles Summit, a biennial event, was held in Tianjin, China between May 19 and 21, 2012. The summit saw 700 participants, which included business leaders, members, and officials. The summit's theme was "Instant Noodles for a Better Life" and it covered a lot of relevant topics during the three days. Some of the topics discussed at the summit are – food innovation, quality assurance, food safety, and nutrition. Speaking about the growing popularity of instant noodles in China, Wei Ing-Chou, Director General of WINA, said, "The instant noodle competition is fierce and at times even vicious. A lot of media have visited the Master Kong factory (one of the first instant noodle manufacturers). People who don't see the factory will go with the demonization. However, people who do visit the factory and witness the production process first hand, feel regret as to why they didn't eat instant noodles before."
3) China's Instant Noodle Industry
The instant noodles industry has been in China for the past 3 decades, most of which has been spent on the development of this food item. For the first time, in 2010, the industry had the highest sales in convenience food sector, with 90% of the market share being awarded to the instant noodles. The WINA statistics show that in 2010, China's annual sales volume for instant noodles was half of the world total – 42.2 billion servings. Instant noodles, which are considered to be one of the greatest inventions of the last century, right there with the Internet, has picked up only in the 1990s in China with the entry of such brands as "Master Kong" and "President." These brands brought with them concepts such as advanced production, R&D, marketing strategy, flavor technology, and management, which were, till then, alien to the noodles production in China. As a result, the Chinese noodles industry developed rapidly.
4) The Scandals 
However, the instant noodles have not always had this good in China or the region. There has been scandal after scandal, which has threatened to disrupt the apple cart for these noodles. For instance, first there was the involvement of plasticizer and other chemicals in instant noodles, which demonized it throughout China. Similar situations were reported in Japan too. Speaking about it, Koki Ando, Chairman, WINA, said, "Instant noodles have only been around in China for roughly 20 years, which is in fact not very long. During those 20 years, instant noodle producers have encountered their share of trials and tribulations. I think Chinese instant noodle producers have encountered most of the problems that are bound to occur in the industry. As for the way to solve this demonization, I think that we need more and more efficient communication with the media, school teachers and nutritionists."
Thanks to such sensible approach on part of the industry, instant noodles are today the food of choice for Chinese as well as the South Koreans, Japanese, and Indonesians, not to mention so many Americans as well. In fact, this could well be one of the top 10 global food trends. Today, instant noodles are not only a time-saving way to have lunch or dinner but it has also emerged as a piece of Chinese culture, which tourists and other travelers can take back home with them. So, which one is your favorite? Do tell!
Image Courtesy: en.ce.cn, justfoodnow.com
China Is Eating The Most Instant Noodles & Lovin' It!