Honey, I Shrunk The Menu!
21 May 2012
How many times have you gone to a restaurant and struggled with the menu there? Well, not anymore, because in the past few years, restaurants, rather, 'single dish' restaurants have shown an exemplary growth chart, helping people enjoy a simple dining experience without having to struggle with an elaborate, multi-page menu. These restaurants, serving just one or two dishes, are showing a new way to the industry and its patrons. Join in the experience
1) Less is More
 Restrained menus is the latest trend in restaurant business with owners getting innovative and bolder by opting to serve just one dish at their restaurant, instead of going for an elaborate menu, which often tends to confuse the patrons. This trend has already been visible in other aspects of the business as well, such as shorter wine lists. Then, the restaurants went ahead and shortened the menus to just 10 or so dishes. With the response being encouraging, the menus got shorter and boiled down to just dual-dish or single-dish restaurants. At first, you may feel awkward that you go out to a fine dining restaurant and get to choose just one or two dishes! But as you count the benefits of it all, you understand that the change is for better.
2) Dual-Dish Restaurants
These kinds of restaurants are enjoying their moment under the sun right now. When the "Burger & Lobster" opened in December 2011 in London, it served just three options, as described by the restaurant website, "No menus or specials boards, two dishes, the lobster or the burger." The menu is served with cocktails and champagne. When the London bloggers started putting up rave reviews about "Burger & Lobster", people took notice and now the restaurant is happily serving three dishes on its menu, which are technically just two – a burger, whole lobster, and lobster roll.
3) Single-Dish Restaurants
There is a horde of such restaurants which serve only a single dish or use just one ingredient on their whole menu and believe us, the patrons are loving it. Here are a few examples:
"Bubbledogs" – It serves hotdogs with champagne and it opened its doors in July last year. The restaurant by famous chef James Knappett and although the menu is a bit long with 10 dishes, it is still limited.

 
"The Tramshed" – This bohemian-named restaurant is yet to be launched but Mark Hix has made sure that the menu remains no-fuss with just chicken and steak to be served.

 
"Beerd" – You get only pizza and craft beer at this Bristol-based restaurant, and though the combination is traditional, the fact that the menu has just this one dish and beer makes it modern at the same time.

 
"Madd" -  You want to satisfy your mango cravings? Head to this restaurant, which serves only mango-based dishes giving a new meaning to single-dish restaurants.

 
"Le Relais de Venise" – This restaurant, with branches in Manchester as well as London, serves just one grand dish on its menu – the steak and chips. So, whenever you dine there, you are bound to get it right.
4) The Pros & Cons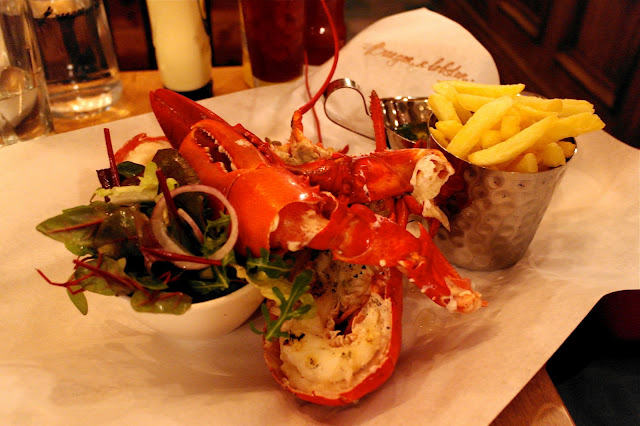 The story behind such grand overhauling of restaurant menus is riddles with pros and cons. While the cons may appear to be more than the pros, the positive impacts of such a trend are also growing in number. If a restaurant serves just one dish on the menu, it has to face the pressure of getting it right all the time, because the restaurant has chosen to put "all your eggs in one basket." The pros, as we said, are no less. For one, diners' lives get a lot easier because before starting their lunch or dinner, they don't need to raise their blood pressure going through pages and pages of menu and ending up confused about what to choose for their meal. Simple menus also mean that there is less food going waste because the patrons order only what they can eat without getting overwhelmed with the choices.
Ever since casual dining was introduced, this new trend seems to sweeping all off. With the restaurant menus being shrunk like this, times are definitely changing in the restaurant business. Now you don't need to look for tips to read restaurant menus. So, have you visited a dual or single-dish restaurant in the past? What was the experience like? Write in with your comments.
Image Courtesy: thelondoner.me, blog. lastminute.com
Honey, I Shrunk The Menu!