Obama Buys Hoagie For Himself, Is PCRM Watching?
17 May 2012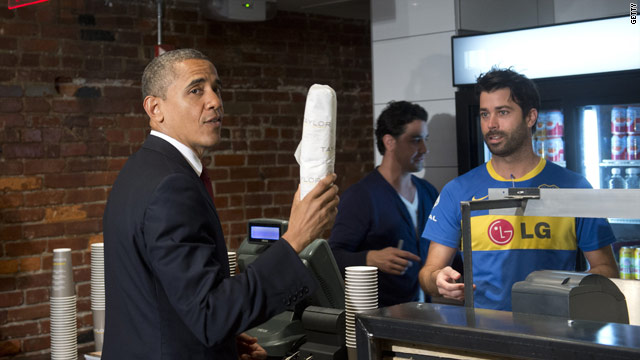 Trust President Barack Obama to do what he wants to do, irrespective of whether people like it or not. Just as a petition was filed against his eating habits in public, the Prez has gone ahead and done just that - ordered a 12-inch hoagie for himself and some more for a group of congressional leaders whom he got a take-out on Wednesday from the "Taylor Gourmet" sandwich shop, located in the U street neighborhood of Washington, D.C., close to the White House. Read on to know more...
1) The Take Out
The President was expecting a group of Congressional leaders at the White House for lunch. He was supposed to discuss the government policy with the group. His guests for the occasion were Democratic Senate Majority Leader Harry Reid, Republican Senate Minority Leader Mitch McConnell, Republican House Speaker John Boehner and Democratic House Minority Leader Nancy Pelosi. For reasons known only to him, Obama decided to skip what the White House kitchen was preparing for lunch and, instead, went out to the sandwich shop to get a take-out lunch for his guests. Once at the shop, he also held a small roundtable meeting on small business to which the co-owners of the "Taylor Gourmet", David Mazza and Casey Patten, were also invited. After a brief discussion with the small business owners, Obama got up to place his order.
2) Obama's Order
For himself, the President ordered a Spruce Street hoagie. This is a 12-inch sandwich loaded with roast turkey, prosciutto, roasted peppers, and provolone. He took to the White House "an assortment of sandwiches" for the Congressional leaders but nobody in the shop could say what was there in the assortment. Obama paid $62.79 in all for the order before heading back to the White House for another meeting. While holding up his order, Obama said to the people present in the shop, "this is a serious size hoagie here, this is no joke." While he was at the shop, Obama was also heard saying, "My message to Congress – and I'm going to have a chance to see the congressional leadership when I get back to the White House; I'm going to offer them some hoagies while they're there – is 'let's go ahead and act to help build and sustain momentum for our economy.'" He further said, "There will be more than enough time for us to campaign and politick, but let's make sure that we don't lose steam at a time when a lot of folks like these are feeling pretty optimistic and are ready to go."
3) PCRM Threat
It was only recently that the "Physicians Committee for Responsible Medicine" took offense to the multiple photo-ops of the President gorging upon fast food in public eye. The advocacy group, therefore, filed a petition asking the President to either cut down on his photo ops in public or stop eating fast food in public altogether. But going by the 'hoagie incident', it seems like the President is not in a mood to listen. This subtle snub to the PCRM petition is in complete contrast to the First Lady's "Let's Move" campaign, which has been devoted to promoting a healthy lifestyle among Americans.
While it is still not known whether Obama's 'Hoagie diplomacy' paid off, but it sure made some converts, like Brendan Buck, who is a spokesman for Boehner. Buck wrote on his Twitter account, "I stand with the President in favor of Taylor Gourmet." So, that's a good start for sure and if PCRM is fuming at that, well, who cares?
Image Courtesy: politicalticker.blogs.cnn.com
Disclaimer: The image copyrights belong to its owner. The usage of the image in this blog is purely for the entertainment purpose. No copyright infringement intended.
Obama Buys Hoagie For Himself, Is PCRM Watching?