The 'Slanted Door' Chef Brings Vietnamese Home Cookbook
17 May 2012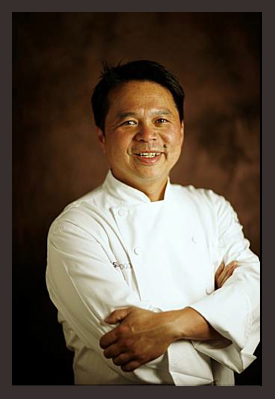 This is one cookbook you would not want to miss this year. Charles Phan, chef at San Francisco's "The Slanted Door" (quirky name!!) restaurant, has earned quite a name for himself. Therefore, when he talks about his forthcoming project – a Vietnamese home cooking cookbook- people are bound to be interested. He has gone ahead and launched a video preview of the book in which he talks about his culinary skills and the story behind the cookbook. Quite a nostalgic trip but first the cookbook:
1) The Philosophy
Charles Phan left his homeland when Vietnam fell to Vietcong. Before settling down in San Francisco, his family lived in Guam briefly. This abrupt disruption in his connection with the homeland must have inspired Phan deeply because when he opened "The Slanted Door" in 1995, the restaurant re-wrote all the rules of ethnic cooking and eating.  In his own words, "No one was doing a high-design, high-service Asian restaurant." Therefore, the menu focused on authentic Vietnamese dishes cooked homestyle. It is needless to say that Phan procured fresh ingredients from local markets and farms and kept his menu small but rotating instead of falling into the trap of elaborate entrées. His philosophy was simple, "Food is history – you can tell a lot about a culture by looking at how and what they cook and eat. I would hate to see clay pots go out of fashion 50 years from now." It is this individual thinking that won Phan the coveted James Beard Award for Best Chef in Califronia.
2) The Cookbook 
Titled "Vietnamese Home Cooking by Charles Phan," This book is one of the most eagerly awaited cookbooks, not only because it is about a cuisine that has not been written about much but also because it is the first attempt at writing from Phan. The book has seven chapters and Phan believes that nobody should feel intimidated reading about Vietnamese cooking. He believes, "If you can drive a car, you can cook, I think. Or even if you don't drive a car, it's simple. It's not that hard." Well, what words could be more encouraging? The book is aimed at home cooks who want to know about the fundamental techniques and ingredients involved in traditional Vietnamese cooking.
3) The Vietnamese Cooking
Vietnamese food is famous for its bold flavors, which come from fresh spices and local ingredients. Since Phan is an authority on the subject, he has brought together all the major techniques involves in this cooking, like steaming, frying, braising, and stir-frying (the most popular one). There are 125 recipes in all for home cooks to try at home and earn brownie points with family and friends. Some of the famous Vietnamese recipes – Green Papaya salad, Gulf Shrimp and Baby Bok Choy Stir-Fry, Crispy Stuffed Quail with Glass noodles – feature in the book. Phan has also kept the nitty-gritties in mind as he supplies the home cooks with recipes for typical Vietnamese stocks and sauces, along with a photo guide of ingredients. And for those who can't do without their share of sin-food, there is a separate chapter on Vietnamese street food (Yummy!!!).
Just like Phan's restaurant has been catering to discerning San Franciscans for over a decade now, his cookbook also promises to cater to those interested in recreating a simple, yet delicious, Vietnamese meal at home. The only question remains that after knowing most of Phan's secrets, would people still visit "The Slanted Door" for Vietnamese food? Well, the answer is that may be Phan has not shared all of those secrets in this one book. Perhaps, there is still more to come!
Video Courtesy: youtube.com
Image Courtesy: somagrand.com, amazon.com
Disclaimer: The image copyrights belong to its owner. The usage of the image in this blog is purely for the entertainment purpose. No copyright infringement intended.
The 'Slanted Door' Chef Brings Vietnamese Home Cookbook