Even Slurpee Is Getting Skinnier!
17 May 2012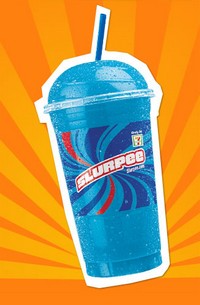 This is one frozen drink no one would have expected to get any skinnier than it already is. However, that did not deter 7-Eleven from giving its Slurpee a healthier avatar. This has been done by using Splenda instead of sugar so that the calorie count is curbed. Hope you are not already switching off because this slimmer slurpee is tasty too!!!
1) Calorie-Conscious
With a considerable size of the US population getting fatter and unhealthier, the fast food restaurants have also been forced to serve as many healthier options as possible on their menus. Be it McDonalds, Domino's, or PepsiCo, every company worth its salt has done its bit in keeping the health banner flying. Although PepsiCo's attempt to get slimmer with its "Skinny" cans met with public outrage at one point, but overall the fast food industry's efforts in this direction have been appreciated. Probably, that is why 7-Eleven also felt encouraged to move on the same path and came up with the skinnier alternative.
2) Skinnier Slurpees
The low-calorie Slurpee will be launched nationally and the first flavor to be launched would be Fanta Sugar-Free Mango. The other flavors to follow soon after would be Strawberry-banana and Cherry-limeade, to be introduced to the market in July and August, respectively. Speaking about this innovative step, Laura Gibson, vice president told the media, "We talked to a group who said they would drink Slurpees more often if we take out the sugar and reduce the calories. The classic version of Slurpees comes at 66 calories but the low-calorie option will be just 20 calories. Now, isn't that great!!! With the new Slurpee, the company is hoping to lure young women, especially those in the age bracket of 20-30, who are looking for healthier options.
3) "Clear Magic"
The company is promoting the new Slurpee as "clearly made with magic!" The tagline of the slimmer Slurpees reads, "All flavor. No sugar." Speaking about the smaller calorie count of this drink, a nutritionist predicted that the diners exceptionally conscious about their waistline will find this offer exciting. However, the nutritionist is forthright about the real picture, "Slurpee had zero nutritional value then, and has zero nutritional value now. Now, it's just a different kind of junk food."
Before the consumers, however, it is the company, 7-Eleven, which seems more excited about the prospect of bringing a new drink to the market. The excitement is visible in the fact that the company will serve free Slurpees on May 23 from 11 am – 7 pm on its American outlets. Be sure to grab one on that day.
Image Courtesy: lifehacker.com
Even Slurpee Is Getting Skinnier!