Its 'A Matter Of Taste' For Fulvio Bonavia
7 May 2012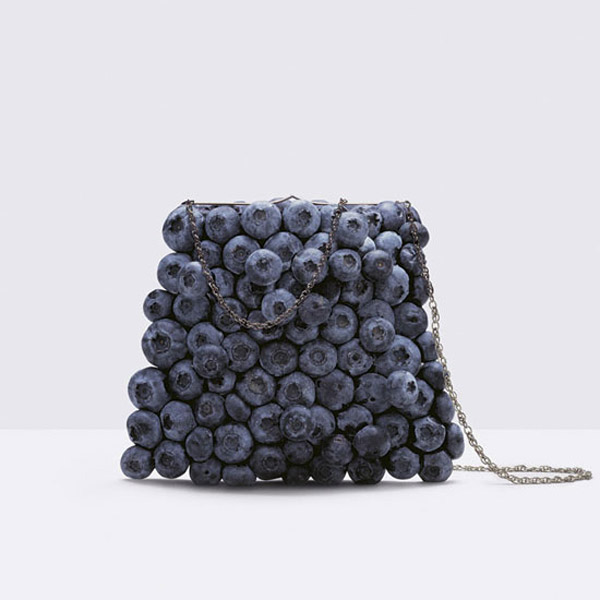 Fulvio Bonavia needs no introduction among art fanatics. However, if his work, "A Matter of Taste" is anything to go by, he will be as famous even among those who don't really understand art. Yes, that is the power of food, which Fulvio has enlisted in this attempt. This marriage between food and fashion is what will get you close to this piece of art and once you are hooked, it will be forever:-
1) Food and Fashion
The high point of this book is that each item showcased in it has been hand-created by the artist himself. That is a refreshing change in the world where artists don't hesitate to use Photoshop to improve their creations. So, whether it is handbags, footwear, clutches, headphones, earrings, necklaces, belts, rings, helmets, perfume bottles, or even thongs, yes, thongs! Howzzat? And if you look at the things he uses to create these masterpieces, you would be tempted to just pick them up and take a big bite. Fulvio uses fruits, vegetables, pasta, seafood, and cheese to create these delightful things.
2) His Creations
Looking at most of his creations, you are forced to think whether food has finally become a fashion accessory or not? Check out what all he has created in his book and if you feel tempted, you can always log on to his website, fulviobonavia.com. Check out some of Fulvio's works below.
Purses – The artist has used blackberries, blueberries, raspberries, flowers, shrubs, leaves to create handbags, purses, and clutches. The only drawback is that you will be spoilt for choice whether to eat them or carry them.

 
Helmets – Fulvio's helmets are made of flowers and watermelon. So, when you wear any of them, you can be sure of turning more than just a few heads.

 
Footwear – He creates shoes, slippers, sandals and gumboots out of the most unusual food items like aubergines, cashewnuts, and rice grains. Now when you would wear them, you would not want to go out for the fear of spoiling them.

 
Jewellery – These may yet be his most spectacular collection as Fulvio creates necklaces and rings out of seafood, leaves, jujubes, and cheese.

 
Underwear – Well, this one got a thumbs up from everybody as this collection contains thongs created out of salad-leaves.

 
Belts – Whether it is spaghetti or fish, Fulvio knows how to create a 'not-so-durable' belt out of it. The only challenge is how to wear it.
3) To Eat or Not To Eat
This seems to be a dilemma for those who love his works. Fulvio's creations are short-lived and since everything is made fresh, there is no chance that his creations can live past a few days, at the most, except, of course in case of cheese. But then those who would go for his cheese block purses cannot help but keep nibbling on them every now and then. So, in effect, none of Fulvio's creations are designed to last a lifetime. But never mind, you will have pictures to prove that you once possessed them.
At Fulvio's Bonavia's studio, food meets fashion in a big way. When asked to describe his creations, the artist said, "It's a different point of view to show food as desirable object like fashion accessories. I think they both seduce people in the same way. Yes, I think there are people that consumer fashion quite similar to fine food." It is said that "A thing of beauty is a joy forever." In case of Fulvio's creations, it may not be forever but a "thing of beauty" it definitely is. Which one of his creations would you like to own? Write in with your comments.
Image Courtesy: fulviobonavia.com
Disclaimer: The image copyrights belong to its owner. The usage of the image in this blog is purely for the entertainment purpose. No copyright infringement intended.
Its 'A Matter Of Taste' For Fulvio Bonavia