On McDonald's Cue , Subway To Open 1000 Outlets By 2017

4 May 2012
It was not long ago that Subway overtook McDonald's in the race to become the world's most favorite fast-food restaurant. Now, it seems, the outlet selling subs has decided to leave McDonald's behind in India too. That is why, it is planning to open 1,000 more outlets in India within the next five years. To do so, the company will have to invest a total of $58 million. Wait, if that is not enough, you might as well see 5,000 more Subways opening up in India in the next decade. Howzzat for flying high?
1) The Subway Story
Started 47 years ago, with a $1,000 loan from a family friend of the founder, Fred DeLuca, the sandwich shop has come a long way from being "Pete's Super Submarine" (probably named after the loan-giver family friend Peter Buck) to the leading chain of the world. Now that the company is going strong elsewhere, DeLuca has trained his eyes on more outlets in India, where he sees a lot of potential. The Subway is ahead of McDonald's in terms of the number of outlets worldwide but DeLuca continues to treat its rival American chain as the 'inspiration' behind showing him the way to help Indians eat out better. This expansion will mean employment opportunity for about 15,000 more people. Isn't that great?  DeLuca is quite hopeful about India's future as he says, "The country will add about 497 million to its urban population from 2010 to 2050, as per United Nations' Revision of the World Urbanisation Prospects Report-2011."
2) The India Connection
DeLuca visited India 12 years ago, for the first time, and during his stay, he met franchise owners, customers, and other stakeholders to gain from their experiences. The last time he was in India was in 2004. Today, Subway has 260 stores in all and that is going to change soon, thanks to the economic growth of the country. DeLuca has high hopes form the Indian market, which, he says, has "high potential, with its large population being one of the major reasons." He says, "India is a promising business destination with a young, educated population having growing disposable income."
3) The Immediate Target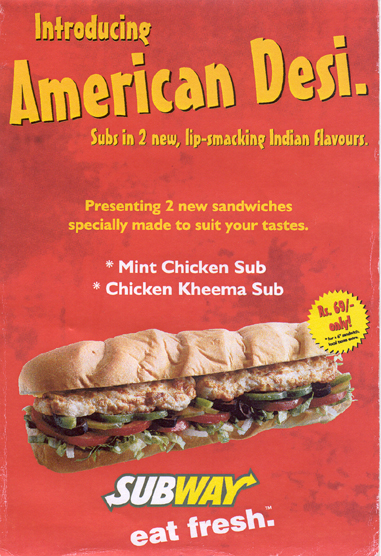 While in the past 8 years, the company may not have much to show in terms of numbers, DeLuca is going to change that as well. First of all, he plans to open 1,000 more Subway stores in the country by 2017. But he will not rest at that. In a decade from now, Subway plans on opening 5,000 more outlets, provided the existing outlets do "a good job." The company's target group would be Indians aged between 16 and 30, because, he feels, they have the most spending power and reason to dine out. Besides the metropolitan and tier-I cities, Subway will also target the tier-II and III cities, which are the next stop of economic growth.
4) Comparison with China
In the Asian market, India and China are the only two countries where DeLuca sees exceptional potential. To top it, Subway has the same number of stores in both the countries and they are also growing at the same rate. But out of the 100 countries, where Subway has its presence, it is these two Asian giants which "have very special challenges." For the Indian customers, Subway needs to have a very good vegetarian menu, considering the fact that a considerable part of the population is either vegetarian, or doesn't eat meat outside home for religious, ethnic, or health purposes.
5) The Real Challenge
According to DeLuca, "The real competition is in finding good locations as more brands come to the country. There are two main challenges in the business – first, to find a good location and two, to attract customers." With the Asian growth set to achieve a rate of 30-40% in the near future, Subway is hopeful that after overcoming the two challenges, it will have only good things awaiting.
While Subway seems to be on its way to victory in the Indian subcontinent as well, DeLuca is quick to explain that the kind of fast food served at his restaurant is "a different kind of fast food." What is your take on this news? Do you think it would be worth to have more Subways in India? Write in with your comments.
Image Courtesy: foodierant.blogspot.in, franchiese-plus.com
On McDonald's Cue , Subway To Open 1000 Outlets By 2017