Ifood.tv's Vikas Khanna 'Cooks' Magic At World Gourmet Summit
2 May 2012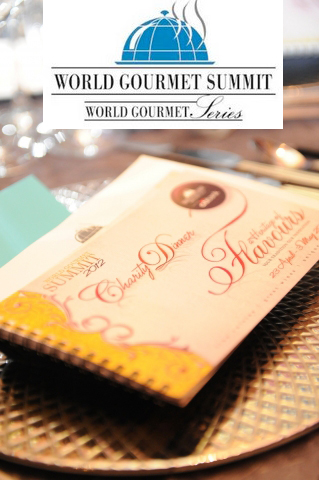 Ifood.tv MasterChef, Vikas Khanna, and a galaxy of other chefs were in Singapore recently, to participate in the "World Gourmet Summit". The summit this year has invited a constellation of star chefs to cook exceptional food for selected individuals, offering them a fine dining experience in a unique environment.  The event has been on since 1997. It began on April 23 rd this year and is scheduled to go on until the 3rd of May.
1) World Gourmet Summit
It is an epicurean festival held every year in Singapore in which celebrated chefs from different parts of the world are invited to showcase their craftsmanship. Besides, there is also a dazzling array of acclaimed vintners who supply the event with the choicest of wines. Events like vintner dinners, celebrity dinners, special-theme dinners, gourmet golf, etc are a part of the Summit. Overall, the event is dedicated to enjoying the best gourmet experience in style. The Summit is organized by "A La Carte Productions Private Ltd", which is a subsidiary of "Peter Knipp Holdings Pvt. Ltd". The "Singapore Tourism Board" (STB) supports the event. The main aim of the event is to "establish Singapore as a culinary destination" and going by the talent that the Summit attracts from all over the world, the event is doing its job well. Over the past 15 years, the "World Gourmet Summit " has hosted more than 140,000 guests.
2) Who's Who
There are three main categories of chefs who participate in this event. This year, there were a total of
Hosting Chefs – A total of 12 chefs participated in this category, which include names like Douglas Tay, Kevin Cherkas, and Manjunath Mural.
Masterchefs – Eleven chefs, including Chef Khanna, showed their culinary talents, in this category.
Special Guest Chefs – There were four chefs in this category, including Anatoly Komm and Chan Kwok.
Celebrity Chef – Only one chef, Marco Pierre White, participated in this section.
As is evident, this dazzling collection of chefs presented a wonderful array of food that took the guests by surprise.
3) Chef Vikas Khanna's Session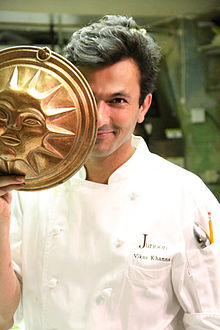 Chef Khanna has already shown his talent for food on different platforms, including the White House, twice over. So, it was obvious that his session should be highly anticipated. If the booking status is anything to go by, then Khanna's "Culinary Hands-on Workshop" was well received among the guests. The workshop took place on May 2, 2012 and apart from Khanna's event, there were a host of other events that graced the 11-day event. These included:-
a. Culinary Experience at Miele – An up, close, and personal session with Fergus Henderson on April 24, 2012.
b. Ponthier Dessert Industry Workshop on April 25, 2012.
c. Citibank Gastronomic Jam Sessions on April 26, 2012.
d. Marco Pierre White Celebrity Dinner on April 27, 2012.
e. Norwegian Seafood Council Industry Workshop with Ronny Emborg on April 28, 2012.
f. World Gourmet Summit Craft Beer Mixology and World-Inspired Beer Dining on April 29, 2012.
g. Masseto Wine Masterclass on April 30, 2012.
If you are in Singapore, you still have a day to catch up with this magnificent event but chances are slim as everything is likely to be fully booked. However, next time, do make your reservations well in advance.
Image Courtesy: worldgourmetsummit.com, en.wikipedia.org; events.insing
Disclaimer: The image copyrights belong to its owner. The usage of the image in this blog is purely for the entertainment purpose. No copyright infringement intended.
Ifood.tv's Vikas Khanna 'Cooks' Magic At World Gourmet Summit