Do You Know Your 'Spice Quotient'?
1 May 2012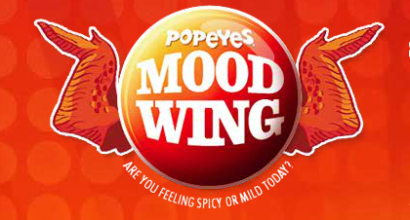 Would you want someone to predict your 'spice quotient' before you can order  fried chicken wings? Well, Popeye's Louisiana Kitchen, an Atlanta-based enterprise, has developed 'Mood Wing' for this very purpose. This web application captures your moods based on your Facebook or Twitter activities and recommends the appropriately spiced chicken wings that you should eat. Sounds like too much invasion on your privacy? Read more and then decide.
1) 'Mood Wing'
This big data app is the perfect example of how your future is going to be data driven and, at the same time, with no privacy at all. This application makes use of the social media updates of the customer, especially on FB and Twitter, to analyze their sentiments and moods and, thus, determining their moods, which range between 'spicy, mixed, or mild.' After the app declares the mood of the customer, it recommends the supposedly perfectly-spiced chicken wings that the customer should eat. It goes a step further because it also suggests the appropriate music for the customer's mood, courtesy 'Spotify.'
2) Invading Privacy With Promotion
There is no doubt that this latest promotional tool of Popeye's is targeting what the customers may not be too happy to share readily with everyone. However, the fact remains that this app is all about having some fun. And if you are a lover of the Popeye's chicken wings, you will surely want to get a good deal, especially since the chicken wings sold here are marinated in Louisiana herbs and spices for full 12 hours, before being breaded and fried into a unique taste. The restaurant offers these mouth-watering delights in lieu of information about your personal mind space, something like the ancient barter system, but only when you agree to share that information. Well, people think so because if the privacy quotient that this app gathers from people's profiles is not dealt with properly, it may lead to unsavory results. However, the IT industry is confident that people, even those with privacy concerns, would not mind making use of this app as it only optimizes their dining out experience.
3) Spice Quotient
When you give 'Mood Wing' access to your personal data on Twitter and Facebook, it sends back your spice quotient in the form of a FB wall post or a tweet, thus letting others on these social media networks know about what you have been upto. Sample some of the 'spice quotient remarks posted by this app on customers:
'You should come with own warning label.'
'Your spiciness would make a fire stop, drop, and roll.'
'You're hot! You're not. You're hot! You're not.'
'You're like a yo-yo of unpredictable spiciness.'
'You're the calm before the storm, but without the storm.'
For better or for worse, the app posts the results on your FB or Twitter profile too so that everyone else is aware of what you are upto.
4) Mind Behind 'Mood Wing'
It was Campbell Mithun, a Minneapolis-based digital agency, which was hired for this assignment, which included designing the website as well as the digital support for further promotions, social media, and marketing. This app is the agency's first digital work. The agency developed 'Mood Wing' app, which supports the Popeye's Bonafine bone-in chicken menu item. This digital effort will play through May and for those customers who love some fun on the side, this promotional tool is also available while you dining at the restaurant itself.
5) The Good Point
Speaking in favor of the company's promotional tool, Dick Lynch, chief global brand officer at Popeye's, says, "This element of the promotion offers a way for consumers to engage with the Popeye's brand in a fun and personalized way." He further says, "We originally stepped into the social media space to go to where our customers are and engage with them. Bringing on a digital agency is an exciting next step for our brand and will allow us to take our online efforts to a new level." Rachael Marret, president of Campbell Mithun supports Lynch when she adds, "What we love about the Popeye's partnership is the passion surrounding the brand. Their customers are in love with their food and many are already active users of social and mobile (networks). And the marketing team is eager to stretch the brand in the digital space, so we are excited by the opportunity."
Chicken wings are probably the most popular to-go-snack among Americans. However, whether this app will be popular enough to be enlisted in the top 5 food apps is something the public will have to decide, only after they use it. Have you already used "Mood Wing"? If yes, share your experience in your comments.
Image Courtesy: mnprblog.com
Do You Know Your 'Spice Quotient'?