'Starbucks of India' To Sell Espresso Machines Too

23 Apr 2012
It has been called the 'Starbucks of India' and just like its US counterpart, "Café Coffee Day" (CCD) is diversifying into areas other than selling just coffee and eatables. CCD has now decided to sell espresso machines and  will begin with the IT hub of India, Bengaluru. Read the whole story below.
1) CCD's Future Plans
India's coffee consumption, though nowhere near America's, is growing steadily and more and more Indians, not just mushy teenagers out on a date, can be seen spending time inside coffee shops. However, another trend that is catching up with the urban population of the country is brewing coffee at home. In order to capitalize on the "coffee culture" of India, CCD has decided to sell espresso machines. Speaking about its decision, CCD President S. Vejay Anand, told the media recently, "We understand that the coffee culture is growing and we want to dispel the notion that making an espresso is difficult. This is the first machine that we are selling. We can leverage the back-end for roast-grinding coffee." The company has already announced its plans to venture into e-commerce and this decision comes close on the heels of its e-commerce plans.
2) Selling Machines
The company will launch a "capsule machine" in Bengaluru next week and will initiate a similar one in Mumbai too. Explaining the machine, Anand says, "The coffee is packaged in a tub that we call capsule. You put it in the machine and get an espresso within a few seconds." The company intends to sell coffee beans and coffee powder as well, which it is already doing, nevertheless. For now, by September this year, the company will launch this product in seven other cities. It will not venture into this alone, however, and has already started looking for service partners to go with its plans in other cities.
3) CCD is Already Selling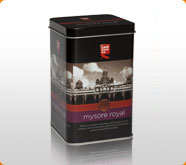 Besides coffee beverage, CCD is already selling a wide range of merchandize at its 1,300 countrywide outlets, which includes – T-shirts (for Men and Women), coffee powder, coffee makers, coffee mugs, snacks, and cookies. It also sells stovetop coffee makers. However, the new product, will add a new dimension to the company profile as Anand explains, "This is a new category for us and we need to service it as well. It is not like food and beverage where you make a sale and your work ends there. We have identified a person for after-sales services and we will work with multiple partners for other cities." For starters, the machine will come in two variants – automatic and semi-automatic – to be sold at prices Rs 4,500 ($86.16) and Rs 5,500 ($105.3), respectively.
Coffee or not, the CCD seems set to cash in on the growing affection for coffee in India. However, whether its espresso machine will sell like its coffee beverage remains to be seen.
Image Courtesy: shop.cafecoffeeday.com
Disclaimer: The image copyrights belong to its owner. The usage of the image in this blog is purely for the entertainment purpose. No copyright infringement intended.
'Starbucks Of India' To Sell Espresso Machines Too