Jaffa Cakes Go Willy Wonka Way, Install Lickable Wallpaper In Lift
16 Apr 2012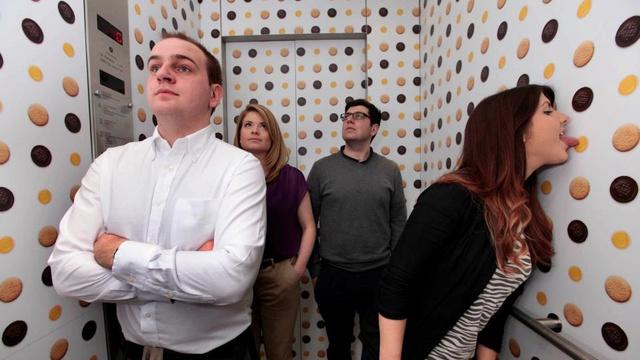 How would you react if you get into a lift and find lickable Cakes staring at you from between the wallpaper, waiting for you to lick them off? Well, the concept sounds like coming straight from the brain of Willy Wonka but this time, it is Jaffa Cakes, behind the concept. But if you thought people are falling over each other to get into that lift and get their tongues on that wallpaper, you are wrong. Read on to know why:
1) Lickable Wallpaper in the Lift
The company used 1,325 lickable McVities Jaffa Cakes to install inside the elevator with the help of food technicians and artists and it took four weeks to accomplish this task. The world's first lickable lift is in the office of communications company, Engine's, building, located in Great Portland Street, London and the employees working in the building are the first one, in fact the only ones for now, to enjoy this daily commute in the elevator to their floor. The company admits that it got its inspiration to work inside a lift from the one featuring in the Willy Wonka film, "Charlie and the Chocolate Factory."
2) Lucky Bastards!
Well, if there is one thing, it is jealousy, which is what the rest of the Londoners must be feeling towards the people working in the building. You can scroll the company's Facebook page to see pictures of eager lickers having a go at the cakes inside the elevator. For the employees working in the building, there could be no better stress buster than this after a hard day's work.
3) What About the Germs?
Well, if you are the finicky type, who worries about someone sneezing meters away, then don't worry. If a cake is licked once, it is removed from the wall by a bell boy so that no one else can lick the same cake again. Speaking about the purpose of installing this lickable wallpaper in the elevator, Philippa Tilley, Senior Brand Manager, McVities Jaffa Cakes, says, "We are all about bringing a bit more fun to life and this was the perfect way to get a little joy straight to stressed out office workers." Well, that much is true and quite a noble thought.
Well, hygienic or not, this "lickable elevator" is sure going to be the topic of conversation around the water coolers in that building for quite some time now. While some people are already trashing it as one of the top 10 useless food inventions, there are those who wish they had an office in the same building? Do you want a similar wallpaper for the elevators in your office building too? Write in with your comments because Jaffa Cakes is listening.
Image Courtesy: thegadgetblogger.wordpress.com
Jaffa Cakes Go Willy Wonka Way, Install Lickable Wallpaper In Lift