Chocolate Printer Becomes A 3D Reality At Just £2,500
12 Apr 2012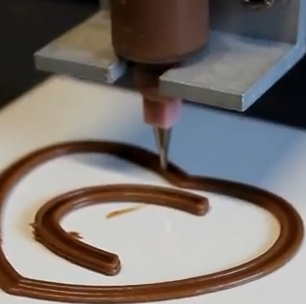 Have you ever wanted a printer that could print food, instead of documents? What if you were offered a printer that can print chocolate in 3D? Well, you are jumping already! So, here is a chocolate printer, Choc Edge, which prints yummy chocolate in three dimensions but costs a bomb, £2,500. Well, for those with deep pockets, that should hardly be a problem and for others, they will have to wait till the printer becomes cheaper.
1) Choc Edge is here
If you want to say it with chocolate, then Choc Edge is the one machine you need to get your hands on. It can spell out alphabets, shapes, or any object in chocolate and it does so by building up on successive layers of the material, in this case chocolate. While this technology is not being used for the first time in the industry – many such machines are being used to manufacture plastic and metal products – this is the first time that the same is being applied to chocolate products. This printer was founded by Dr Liang Hao of the University of Exeter and he had already placed a prototype last year called Choc Creator, which he took a year to perfect and then set for sale. Speaking about his interesting invention, Dr Hao said, "We've improved and simplified the machine, so now it is really easy to use. You just need to melt some chocolate, fill a syringe that is stored in the printer, and get creative printing your chocolate. And why they used chocolate is because it is easily available, costs less and is non-hazardous.
2) Snapped Up
The printer, though a bit on the higher side as far as the cost is concerned, has already evoked interest among the industrial giants, including Britain's biggest chocolatier Thornton's. The Thornton's have reportedly even approached the makers of this printer for a deal, though nothing has bee finalized yet. Besides, the makers are hoping that online sales of the printer will soon start coming in although there is doubt that the machine would find any individual buyers.
3) Many Challenges
However, the journey from cocoa to 3D chocolate printing has not been easy. The makers admitted that working with chocolate as a printing material was fraught with challenges, especially because the material calls for precise heating and cooling cycles. The researchers had to integrate these variables and add them to correct flow rates to achieve the perfect 3D printing process. Speaking about the process of building Choc Edge, Dr Hao said, "What makes this technology special is that users will be able to design and make their own products. From reproducing the shape of a child's favorite toy to a friend's face, the possibilities are endless."
After SushiBot made its presence felt recently, it is time for the chocolate printer to enjoy its hour in sun. Well, for now, the Choc Edge has missed out on the Easter deadline. However, with the printer already available for pre-order from April 10, 2012, printing chocolate at your whim and fancy may not be that far into the future. Till you get your hands on it, satisfy yourself by watching the video of how the Choc Edge works:
Video Courtesy: youtube.com
Image Courtesy: yourgadgetguide.net
Disclaimer: The image copyrights belong to its owner. The usage of the image in this blog is purely for the entertainment purpose. No copyright infringement intended.
Chocolate Printer Becomes A 3D Reality At Just £2,500