Worldwide Shortage Means Eels Get Costlier
10 Apr 2012
A worldwide shortage has led to buyers shelling out top dollars for  baby eels – the tiny translucent elvers, which look like aliens and are the size of toothpicks. The prices of these mysterious creatures have skyrocketed in the recent months with fishermen able to catch up to $2,000 a pound. This hike in eel prices is unparalleled in the history of seafood trade and it is happening closer home, in Portland, Maine. 
1) Baby Eels
The baby eels have an alien look and they are no more than toothpicks in size. With their big black eyes and tiny spines, these translucent creatures are believed to float thousands of miles from the Atlantic Ocean, their birthplace, ending up in Maine's rivers and streams every spring. From Maine, these babies are also exported to Asia, where they are further raised in farm ponds.
2) Liquid Gold
Fishermen across Maine are clambering for a piece of this liquid gold, which is presently selling at an eye-popping $1 per baby eel. While the elver prices keep fluctuating all the time, fishermen say that this is the first time that the elvers have been found to become such a valuable food item. Just last year, the elvers sold at $891 per pound, making them Maine's fourth most valuable wild fishery. However, the astronomical rise in the prices is totally crazy and, what's more, it is supposed to go up to $2,500 per pound as well.
3) The Fishing Season
The eel fishing season began on March 22 this year and with a two-month window open, the fishermen are swinging their hand-held "dip" net to catch the eels as they swim upstream. The fishermen mostly use a butterfly net with fine mesh, to catch the fish. Doing so, the fishermen harvest about half a pound to 2 pounds of eels daily.
4) Maine – The Elver Breadbasket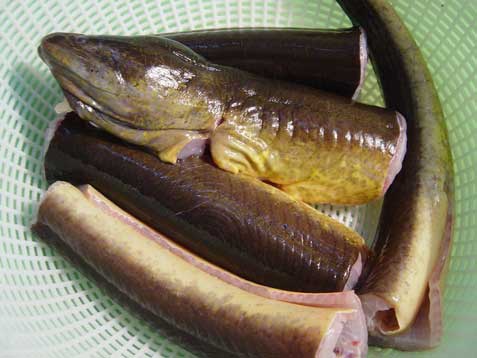 In Maine only, there are more than 400 license holders who fish along the rivers and streams day and night, catching lobsters in addition to the elvers. However, the prices of elvers have been yo-yoing for a long time now. In the early 2000s, the price per pound of elvers was just a measly $30. So, it has come a long way since then and the Maine fishermen are rejoicing in this knowledge. And it has been happening everywhere else too.
5) The Japan Situation
Owing to bad catches and low yields of baby eels, the Japanese Fisheries Ministry has planned a project under which adult eels would be raised from eggs incubated artificially in a commercial set up. The worse part of the situation, however, is that the Ministry is not aware of the reason behind the bad catches, especially because the biology of eels has not been fully understood yet.
Baby eels are an important part of diet in several countries of the world, including the US and Japan. With such skyrocketing prices and dwindling yield, the prices are set to rise further. One of the most common forms in which it is eaten is Unagi Kabayaki.Therefore, in this scenario, it is important to either curb the illegal fishing or consumption of baby eels. Till that happens, there is no other way than to burn a hole in your pocket to eat these alien-looking delightful fish.
Image Courtesy: elfpath.com, noodlepie.typepad.com
Worldwide Shortage Means Eels Get Costlier