Best New Chefs Of 2012: New Wave In Culinary World
4 Apr 2012
You have already read about the top celeb chefs who are making waves. Now read about the Best New Chefs (BNC) of 2012, who are  creating huge ripples in the culinary industry. The selection process for the chefs was month-long, during which the magazine worked with critics, food writers, and other field experts from all over America. In fact, the magazine editors even traveled incognito to taste the food for themselves before selecting the outstanding chefs.
1) Erik Anderson & Josh Habiger
The dapper duo was selected for its cooking that reflects and exciting approach and a Southern accent. Anderson speaks, "If you get gorgeous grass-fed meat and destroy it, what good is farm-to-table?" Quite right! The duo's sample dish was Miso-cured haddock.
2) Danny Grant
With his craft, Grant means to help people realize the "important part" of eating, which is subtle, yet sophisticated, flavor combinations. He got selected thanks to his sample dish, which was Guinea hen, parsnip, Madeira, and potato gnocchi.
3) Dan Kluger
Dan's expertise lies in using farm-fresh produce and marry it to culinary luxury. His efforts on the kitchen counter have resulted in notable accolades for the ABC Kitchen, which has achieved widespread fame within just a couple of years. He got praise for his sample dish – Roast suckling pig, red apple, and smoked bacon marmalade and braised turnips.
4) Corey Lee
Chef Corey Lee's strong point is being Asian, with a French sensibility. A former French Laundry chef, Lee's Benu restaurant is famous for its quality of food. The sample dish in this case was Benu peach, matcha, and elderflower.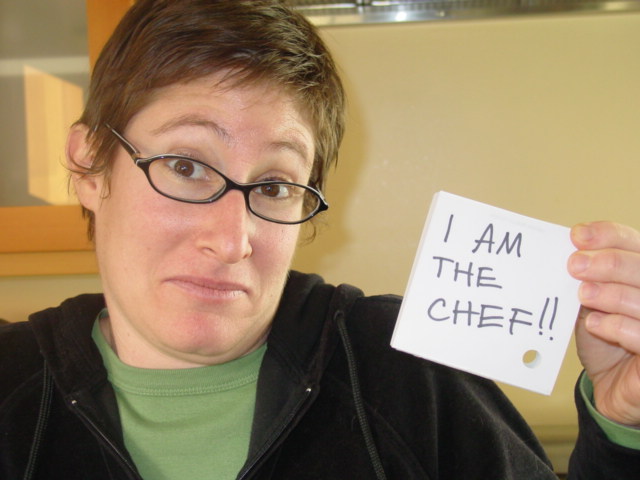 5) Jenn Louis
Three words describe Jenn Louis' cooking – "honest, delicious, sustainable." In her own words, "I don't like too many ingredients or ideas jammed together. You lose the individual ingredients; they can't be appreciated." Quite a sensible approach, which is also reflected in her sample dish – soft polenta taragna with collard greens, lonza and fried egg.
6) Cormac Mahoney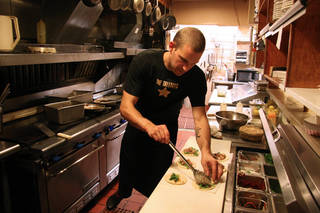 A fan of global cuisine, Chef Cormac Mahoney wants to serve food "that has the effect Like Water for Chocolate." His sample dish was Goat tagine, roasted carrots, dates, ras el hanout spiced yogurt, mint.
7) Bryant Ng
He is impressed with the street food, which is why she thought of bringing together South Asian street food and California cuisine to achieve a "grimy soulfulness you could only get from eating on the street." His sample dish, Laksa (rice noodles, laksa leaf, spicy coconut-seafood gravy) is actually a tribute to his South-Asian roots.
8) Karen Nicolas
With her work, Karen has managed to ruffle quite some feathers in the DC's iconic power restaurant, Equinox. Within a year, she has made quite an impression and other than Chef/Owner Todd Gray, she is the only chef of the restaurant to hold the "executive title." Her sample dish was Braised rabbit fettuccine with stinging nettle puree, braised black trumpets, cipollini onion.
9) Rich Torrisi & Mario Carbone
Another duo to feature in the coveted list is the respected, and reinvented, Rich Torrisi and Mario Carbone. Their culinary state of mind is described by New York as Torrisi asks, "What is there not to love about New York City?" Their sample dish speaks the same too – Island duck, broccoli rabe, and semolina crouton.
10) Blaine Wetzel
A passionate activist of hyper-locavorism Brian Wetzel, says,"People see chefs run out to the smokehouse, grab fish and then, a few minutes later, it's on the plate in front of them." Hi sample dish boasts of the same – scallops, spot prawns, halibut caught within a stone's throw of their front door.
The Best New Chefs of 2012 are all dynamic with variety, and originality being their forte. It won't belong before they take their rightful place at the top. 
Image Courtesy: docsconz.com, grandchefsgala.com, restaurantgirl.com, benusf.com, ingoodtastestore.com, eastlakeave.com, thespicetable.com, equinoxrestaurant.com, newyork.metromix.com, dustinaksland.com
Best New Chefs Of 2012: New Wave In Culinary World