Eat Free Ice Cream On Ben & Jerry's Free Cone Day
3 Apr 2012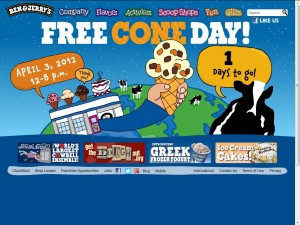 This is probably the best thing to have happened to you on April 3rd and it goes by the name Ben & Jerry's Free Cone Day. On this day, the ice cream giant shows gratitude to its patrons all over the world by keeping up its annual tradition since 1978, that of offering free ice cream cones to its customers at Ben & Jerry's Scoop Shops all over the world. The complimentary cones will, however, be served from noon to 8.00 pm.
1) The Cool Gesture
The Ben & Jerry's have been in the ice cream business for the past 34 years. They started the Free Cone Day tradition as a means to thank their staff as well as customers when they celebrated their first anniversary at their store in Burlington, Vermont, way back in 1979. Although, the company ownership changed hands in 2000, the Free Cone Day tradition was continued past that. With such good freebies available, do we really want a reason as to why we love ice cream so much?
2) Million Cones Given Away
On the Free Cone Day, the company gives out complimentary cones to the tune of one million. Since 1979, this custom has grown into a global event, with customers enjoying free cones filled with Greek frozen yogurt or ice cream. Describing the feeling behind this event, one of the many managers of the Ben & Jerry's scoop shops, says, "The day is all about giving something back to consumers. The aim is to say 'thanks' to Ben & Jerry's Ice Cream fans and hopefully raise over money for charities."
3) The Good Part
The good part of this tradition is that the ice cream giant pairs up with local charities around the world and the money raised on the Free Cone Day is used for the betterment of the needy. This is done by way of donations, which the scoop shops accept even while distributing free cones. The customers can choose out of their favorite flavors like Chocolate Chip Cookie Dough, Chunky Monkey, Cherry Garcia, and Chocolate Fudge Brownie, and donate whatever they want to, and the money will be used for a good cause. Isn't that cool?
Now that you are aware of the noble tradition on part of Ben & Jerry's Ice Cream, grab a bunch of friends, head out to your nearest Ben & Jerry's Scoop Shop, enjoy the free cone and donate to the local charity. You will feel the sweet aftertaste for a long time, we bet!
Image Courtesy: thebestfreesamples.com
Eat Free Ice Cream On Ben & Jerry's Free Cone Day