How Difficult It Is To Be A Food-Taster? Ask These Experts!
2 Apr 2012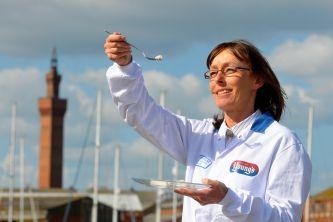 Have you ever thought how difficult it may be to be a food-taster? Well, in the ancient times, kings and queens used to employ food tasters in order to avoid poisoned food. But in the recent times,  the Western world food-tasting has been taken to an altogether different level with specialized segments. Forget coffee, tea or wine, the tasters today taste anything from gourmet cakes to pet food. Read about them and decide for yourself, which  is  more difficult.
1) Jenny Douglas – The Million Dollar Baby
Douglas works for the Young's Seafood and she samples all of the 80,000 tons of fish and seafood bought in by the company. Nicknamed "The Codmother", Jenny's tongue is insured for £4 million, quite a unique insurance policy that is! Well, there is a downside to her job. Douglas holds herself back from spicy food, alcohol, and hot drinks, which are known to affect the taste buds.
2) Laura Fagan – The Cake Woman 
If you were asked to eat cake all day and get paid for it, would you take it up? Of course, you would and that is what Fagan did. She has a job as Chief, Chilled Dessert and Cake Developer, Tesco, where she is paid to travel all over the world and eat cakes and other desserts. The downside of her job, you guessed it right, is calorie count but Laura tries to keep it down by exercising regularly and keeping her teeth and mouth clean.
3) Simon Allison – The Pet Food Specialist
Allison has, probably, the least enviable job in this list as he works as a senior food technologist with Marks & Spencer. His job means he has to ensure that the food products that the company sells for pets are upt to the mark. To do so, he has taste the pet food first but if you thought he is not happy about it, read what he says, "No one asked me to taste it but this is what I do. I love my job." Quite surprising that is! His verdict on sampling pet food, "It's quite bland, really," which is why he will not make a diet out of it. Thank God for that!
So, these are some of the amusing food-tasting jobs in the world but I am sure you'll agree, it is lot better than the weird foods that you may have come across. Have you anything to add to this list? Do let us know.
Image Courtesy: blnz.com, truestardomains.typepad.com, itthing.com
How Difficult It Is To Be A Food-Taster? Ask These Experts!