Chef Manish Mehrotra Wins 'Foodistan' Finale
29 Mar 2012
Judge, noted foodie, and media personality Vir Sanghvi called him "Amitabh Bachchan of the Indian Kitchen" and he remained undefeated in as many as 6 cook-offs on the reality TV show "Foodistan." However, nothing matched the feeling of elation for Chef Manish Mehrotra like winning the title itself. The show that began with 16 contestants earlier this year, ended with a trailblazing finale on March 21, 2012 with Mehrotra being declared the winner.
1) Manish's Learning Experience
A chef for the past decade and a half, Mehrotra works for the Indian Accent restaurant at The Manor hotel in Mumbai. The 38-year-old chef, who is a graduate from Indian Institute of Hotel Management (IIHM), Mumbai and has also trained under celebrated Thai chefs. In Foodistan Grand Finale, he competed with Pakistani chef Poppy Agha from Karachi. As for winning the show, the chef believes that it has given "all Indian contestants an insight into the food and cooking style of the neighboring country and vice versa." Speaking to media after the win, Mehrotra said, "When you meet so many different people from your profession, you get to learn many new things. The eating out culture, especially the street food in Pakistan was unknown to us, the show gave me more knowledge about Pakistani street food."
2) His Armor
Manish chose to cook his three signature dishes for the finale, as per the instructions and he cooked as follows: -
Soft Shell Crab – He served it for starter along with coconut chips, and curry leaves sautéed in Indian spices.
Pan Seared Fish – He made pan seared Basa fish and served it with walnut pilaf and Kashmiri saag.
Chiraunji-Makhane Ki Kheer – He prepared this kheer with banana caramel.
His opponent on the show, chef Poppy Agha, made equally awesome recipes, which included:- Curried Scallops (starter), Masala Chicken Pockets (main course), and Three-tiered Plum Dessert over Besan Halwa biscuit (dessert).
3) Manish on Pakistani Cuisine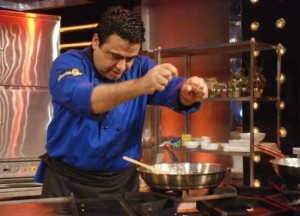 Having started his journey with 15 other contestants, Manish did not appear less than confident at any point of the show. His confidence and skills were the most important part of his performance on the show but more than that, Manish is most happy about getting to know the Pakistani food from close quarters. In his own words, "In India and Pakistan, we don't have any standardized dishes. For instance, if a chef is making 'mutter paneer', the same dish can be made in 10 different ways. Same goes in Pakistan, they can make one thing in different ways. It was fun to learn contemporary and modern fusion Indian dishes."
4) Life After Show
Life after Foodistan has been a roller coaster one for Manish. As per his own admission, "Now the guests come at my restaurant and request the same dishes which I made on the show. We are also planning to hold a 'Foodistan' food festival, where I will make the same dishes which I made on the show." As for the winner taking home the spoils, Manish has managed to bag a contract to write his own cookery book. Besides, he will be able to travel to any three cities worldwide to gain further culinary expertise. Manish has said that he is going to travel to Northern Europe, America, and Australia. As for the book, Manish will be writing a book with NDTV, which owns the channel, NDTV Good Times, on which the show was telecast.
The judges for the show, apart from Sanghvi, were actor and food enthusiast Sonya Jehan, and British chef Merrilees Parker. The show was hosted by Aly Khan and Ira Dubey.
Image Courtesy: odishaeye.com, nowrunning.com
Chef Manish Mehrotra Wins 'Foodistan' Finale