Hunger Games Cookbook: Food Stories From District 12 And Beyond
28 Mar 2012
The Hunger Games movie, based on the best selling series of the same name, speaks of food as an important part of our lives. The recently-released movie has, once again, brought the focus on the fact that everyday dishes acquire a unique significance when they are scarce. Perhaps, that is the reason why there is already a cookbook written in honor of the trilogy, "The Unofficial Hunger Games Cookbook." The cookbook is the brainchild of the fans of the book as well as the movie and it contains food items that highlight food-related scenes from The Hunger Games movie. It is up to you now, whether you want to read, watch, or eat your way through it:-
1) Seeded Multigrain Boule
Once you eat this seeded loaf of bread, which has everything but the kitchen sink in it, you will be able to understand why Katniss was able to eat the whole loaf with her mother and sister in one go. It is a hearty recipe, which you would not want to share with any one else.
2) Basil Leaves Stuffed With Goat Cheese 
This dish is made especially for Katniss on Reaping Day. This recipe can also be made with grape leaves. Either way, it tastes equally delicious.
3) Fish Wrapped in Lettuce
Just like other dishes, this one revolves around Katniss too. It is a type of fish stew made with whatever Katniss brings home. It only calls for fish, herbs, and greens to make.
4) Creamy Carrot Soup
This is what Katniss eats on a Capitol visit. This soup is rich, fragrant, and gets a nice texture for itself with help of poppy seeds and scallions.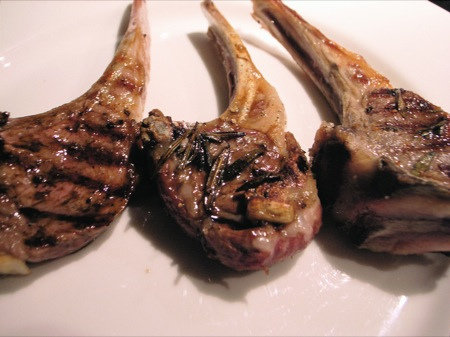 5) Lamb Chops & Frizzled Herbs
Now this one is going to get your goat, or lamb, whatever! The frizzled herbs give a nice crunch to the lamb chops and complement the rich taste of the meat.
6) Fig, Olive, and Lamb Stew
This stew is the dish that impresses Katniss the most after their arrival in Capitol. It is made with dried figs but you may use prunes instead, to give a slight twist to the dish.
7) Orange-Rosemary Chicken
Nothing complements chicken like rosemary and orange and Katniss thinks so too. That is why she takes great pains to describe it in the book. You will agree with her once you have a bite of it.
8) Shortbread
Mr. Mellark churns out these cookies and gives them to Katniss just before she leaves homes for Capitol. These cookies are a delicious combination of sugar, butter, and flour.
9) Goat Cheese Tarts With Apple
These tarts are somewhat out-of-bounds for the poor people of District 12, only the rich can buy them. However, you can make them in your kitchen and enjoy the sweet and savory treat with your family.
These are some of the popular recipes from an equally popular combo of movie and book, "The Hunger Games." You can write in with your favorite among these and for more on film-inspired cookbooks, read about Twilight Saga.
Video Courtesy: youtube.com
Image Courtesy: tomatom.com, hungergamesmovie.org, bloemhof.com
Hunger Games Cookbook: Food Stories From District 12 And Beyond