Schools, Restaurants, Grocery Stores Getting Rid Of 'Pink Slime'
26 Mar 2012
You must have read about the "pink slime menace" in America, a few days ago on ifood.tv. Good news is that schools, restaurants, and grocery stores are taking note of this menace and getting rid of the pink slime in every possible way. While the students, their parents, and general public may heave a sigh of relief at this piece of news, the problem of pink slime is not easy to mitigate. The fact that 70% of beef supply in the country is made up of pink slime or beef trimmings, is certainly bad news but as is evident, things are changing now.
1) What is Pink Slime?
Just to jog your memory cells, pink slime basically refers to the fatty meat trimmings, left over from various cuts of cow. These trimmings are heated and spun fast to remove most of the fat. The lean mix, thus resulting, is compressed and treated to ammonium hydroxide gas to kill bacteria.
2) Schools Say No
One of the largest school districts of America, the Miami-Dade school district, has opted to serve beef free of pink slime despite the fact that it would cost the school more. Similarly, the South Carolina state officials have also promised that they would only purchase pink-slime-free ground beef to be served at school cafeterias. Obviously, the change has been affected by the public onslaught on the school administrations by parents of the children, who were believed to be eating the beef trimmings, instead of beef, in their school lunches. And although the parents are happy about the change, the children are not so happy, not till they have their hamburgers and meatballs for lunch. On such student, studying at the Brighton High School, was not too happy about the missing of the beef from the school cafeteria as he said, "Today I just ate peanut butter and jelly. I don't like the chicken patty." Public became concerned about the beef being served at school cafeterias after news broke out on national media network that the beef served to children during lunch hours was actually a "low-cost blend of ammonia-treated bits of cow." The United States Department of Agriculture, which supplies beef for the school lunch program, came under a lot of flak because of this.
3) McDonald's Gives in to Public Pressure
However, it is not the schools or school administration only, which has had to bite the dust over "pink slime" controversy. Fast food restaurant chains such as McDonald's have also had to admit their folly in continuing to serve the cheap beef substitute to their customers. The fast food giant said last week that since August 2011, it was not making use of the ammonium hydroxide in the production of its hamburgers. The chemical, which is used in homemade explosives, as well as fertilizers and household cleaners, was being used in preparation of the beef for hamburgers and other beef products. In this regard, in a statement posted on the company website, Todd Bacon, McDonald's senior director of quality systems, wrote, "At the beginning of 2011, we made a decision to discontinue the use of ammonia-treated beef in our hamburgers. This product has been out of our supply chain since August of last year. This decision was a result of our efforts to align our global standards for how we source beef around the world." Besides McDonald's Taco Bell and Burger King are two other fast food chains, which have decided to stop using beef trimmings in their products. Watch the video given below to learn more about it.
4) Grocery Stores Follow Suit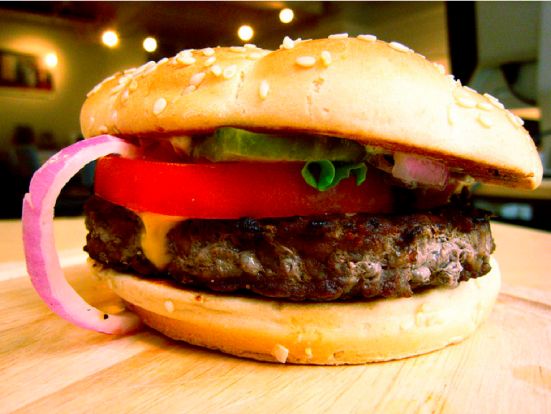 Owing to their responsibility to the general public, major supermarket chains of the country, including Wal-Mart, BJ's Wholesale Club, and Giant Food Stores, have announced that they will not sell 'pink slime." The stores will be phasing out the product already bought in the inventory and will sell alternatives to the ammonia-treated beef trimmings. Various responses to the growing movement against pink slime are as follows:
BJ's – "BJ's is eliminating boneless lean beef trimmings (BLBT) or "pink slime" from our offering. Members will be able to purchase BLBT-free offerings by April 7 for fresh ground beef and April 20 for frozen ground beef."
Giant Food Stores LLC – The company said that it would stop selling products at 144 Giant stores in Pennsylvania and 39 Martin's food stores in Maryland, West Virginia, and Virginia.
Wal-Mart – The company said that it would have new products in stores as soon as possible.
Target - "Our ground beef vendors do not use an ammonium hydroxide treatment in their production processes. Any additional questions can be directed to vendors."
Kroger Co. – The largest traditional grocer of the nation will not buy beef.
Others – Stores that have joined hands in refusing to sell pink slime beef with respect to the customer concerns, include Farm Fresh, Jewel-Osco, Shop 'n Save, Stop & Shop, Harveys, etc.
5) Schools Say
The school administrations are taking steps to mitigate public concern, especially that of parents, regarding beef served in school cafeterias. For instance, Michael Peck, the director of food and nutrition services for the Boston schools, said that the school has decided to isolate its entire inventory of ground beef, which is worth $500,000 and weights 70,000 pounds. Deborah Riso, Portsmouth district's nutrition director, said that the school is taking no chances as far as pink slime is concerned. She said, "You just pull it because you don't know. I had a hamburger bar, so I'm going to do a hot roast beef sandwich. I had a beef or chicken burrito – I'm going to go with the chicken and rice burrito. You can still make a nice product with beef."
The US is waking up against pink slime and it seems with schools, grocery stores, and fast food restaurants already on board, the movement will grow stronger in the future. Have views on pink slime controversy? Air them on ifood.tv
Image Courtesy: gizmodo.com, scpr.org
Schools, Restaurants, Grocery Stores Getting Rid Of 'Pink Slime'