Pepsi NEXT Gives America An 'Unbelievably' New Taste
19 Mar 2012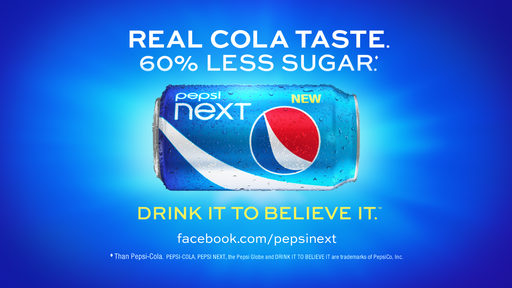 Pepsi NEXT, the latest offering from one of the world's largest beverage manufacturers, debuts in the public domain with an advertisement that borders on surreal. In its new advert, the company claims that Pepsi NEXT is capable of giving America, and the world, an unbelievably new taste, which, of course, comes from the fact that it has 60% less sugar than Pepsi-Cola. Nevertheless, you may still take some time to believe that it actually forces the parents to ignore the wonderfully choreographed antiques of their young ones. That is what is surreal about Pepsi's latest drink and if you have already had a taste of it, you may want to remember that when Pepsi launched its Skinny beverage, it didn't cut much ice with the public, especially the protestors. Nevertheless, here's Pepsi NEXT and it is inviting consumers to "drink it to believe it."
1) New Campaign
Touted as a game-changer in the cola category of soft drinks, Pepsi has launched its advertising campaign with all the usual fanfare associated with the company's other product launches. Angelique Krembs, Vice president of Pepsi Marketing, explains, "We're on a mission to get consumers to experience the real cola taste of Pepsi NEXT for themselves. We're excited that after years of research and development, we've unlocked the great taste of Pepsi NEXT, the choice for consumers who want real cola taste with less sugar."
2) The Unmet Demand
The company has sought to fulfill the demand of an untapped category of consumers, who are not happy with either the full-blown cola drinks or the diet cola beverages. The company believes that these consumers are averse to excessive sugar content of these drinks but they also do not want to compromise with the cola taste by going for diet colas. Pepsi NEXT, therefore, promises to be the "right mix of cola flavor and a blend of sweeteners" that mimics the "taste curve of a regular cola." To cash in on this untapped segment of consumers, Pepsi conducted a blind taste-test in spring 2011, wherein the new product was served to a group of bottlers. Encouraged by the results of this test, the company decided to launch Pepsi NEXT. In this regard, Krembs says, "If we can capture even a portion of those people looking to reduce sugar, some fraction of that 90-million-case opportunity, we will have a viable business on our hands."
3) The Product Launch
The company is going full throttle in marketing Pepsi NEXT and the various steps to introduce this new beverage in the market are:-
Digital Facebook application
In-market sampling for free
Walmart sampling program
TV ad spot
PR events across cities where lucky fans will get a chance to have their first sip of Pepsi NEXT.
4) Another Failed Attempt?
Pepsi doesn't think so although there is good reason for the company to be cautious because many beverage companies, in the past, have tried to find a middle path among sodas, which is high on taste but low on calories. None of those attempts succeeded. However, Pepsi, buoyed by its blind taste-test conducted last year, finds no reason to worry as Krembs puts it, "There are a lot of skeptics. What first gave me confidence was the blind taste-test with our bottlers. When they realized one of the products was Pepsi NEXT, they were blown away. That was the start of the journey. We started replicating variations of the blind taste-test with retailers and consumers in test markets. When people try the product, they're just really impressed."   
5) The 'Unbelievable' Ad
The most talked-about part of the whole Pepsi NEXT campaign is the TV advert, which features a young couple, who are interacting among themselves after having their first taste of the Pepsi NEXT. During the 30-sec commercial, the couple gets so occupied with the drink's taste that they miss out on the "unbelievable acts" of their baby in the background. The ad has been created by TBWA/Chiat/Day and it will begin telecasting on prime-time and cable networks from March 26, 2012.
You can have your taste of this new drink when it releases into the markets. Till then, watch this ad and tell us how you find it.
Video Courtesy: youtube.com
Image Courtesy: multivu.com
Pepsi NEXT Gives America An 'Unbelievably' New Taste