TV Show Cookbooks Entertain Fans All Over Again
19 Mar 2012
These are your favorite TV shows and now you can hold them in your hands and read them. Yes! It is true for a long time now, the most successful TV shows have re-entered public domain in the form of cookbooks that are entertaining their fans all over again. Be it the "Sopranos", "Andy Griffith Show" or the "Friends", almost all the popular television shows have found a new avatar in the print, with food becoming the main character.
1) A Robust Industry
The extraordinary success that the TV show-based cookbooks enjoy has given birth to a robust industry, which is helping the fans eat just the way shown in their favorite TV shows. You can enjoy the quintessential cheesecake just the way shown in the Friends, or enjoy Aunt Bee's rhubarb pie the way Andy Griffith enjoys it. The fact that the viewers are tuned into the TV lives of their favorite characters, they take to these cookbooks favorably and purchase them even if the books have no real value in terms of food or recipes. The TV show-based cookbooks industry, thus works on the basic principle, people are as attached to their favorite characters' eating habits. The publishers were only too happy to cash in on it.
2) Big Numbers
These cookbooks may look like a frivolous pastime but the figures point in a different direction. Irrespective of their merit, these cookbooks sell a lot, which proves that fans are lapping up the books just like they are hooked to the shows. For example, Jessica Goodman, associate publisher at Wiley, the company, which has been behind such TV tie-ins as SpongeBob's Kitchen Mission, and Dora and Diego Let's Cook, says, "Those books do really well for us, especially during holiday season. When cookery writer Michele Scicolone's "The Sopranos Family Cookbook" was released, it sold ten times more than her other cookbooks. Aunt Bee's Mayberry Cookbook by Ken Beck, written in 1991, sold 900,000 copies. The figures are impressive, especially in context of the fact that in publishing business, if a book sells up to 200,000 or 300,000 copies, it is considered a fair success.
3) Taking Cue from Movies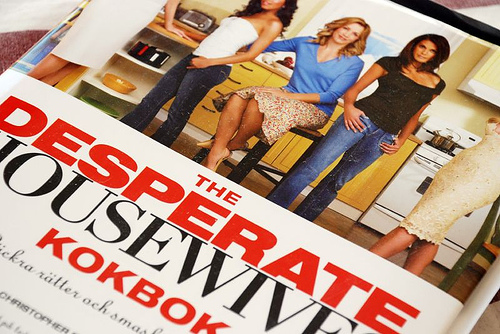 When the Pebeco Toothpaste Company entered the publishing domain with the "Gone with the Wind Cookbook" in 1940, the genre also got reflected in terms of Television-inspired cookbooks. And there is a lot of variety available in this field. While some of these cookbooks are a thought-out venture, replete with professional recipes, some are mostly community cookbooks, which contain recipes that are not even tested properly. However, it seems that the fans are not least bothered about all that. Just as Matt Sartwell, manager, Kitchen Arts and Letters, explains, "A lot of good people are brought on to produce them from time to time, but people buy them because it's a lark. Most of the time people don't even think about the recipes. Most people understand we're talking about fictional characters."
4) Serious Business
Amidst the cookbooks intended to be just fan documents, there are also books, which are serious attempts too, like the recent "The Unofficial Mad Men Cookbook," which is as good a take on culinary anthropology as any book. Writers even take pains to think of situations and recipes suitable to the same in order to come up with some really good cookbooks, which are a step ahead than the TV show itself. For instance, Scicolone went to a great extent to write the follow up to her first Sopranos' book. She thought of situations where one of the characters would come home late from work and think of cooking up something quick. She took help from the treasure of her own family recipes as well as those of David Chase, the creator of the Sopranos series. However, it is not always that easy as was in case of the NBC hit series Friends, where no one really talks about food except for a passing reference. Talking about it, Jack Bishop, co-author of "Cooking with Friends" says, "We were trying to do food that made sense for young people living in Greenwich Village." That is why the book includes recipes such as oatmeal raisin cookies and mocha lattes, things, which young people love to cook and eat.
Cookbooks are a success in themselves and when you combine them with your popular TV shows, it takes the books to a different level alltogether. You watch the shows on TV and cook your the favorite recipes of favorite stars too. The experience just brings you closer to your favorite soap and then, there is the food too. What else does one need? All one can say is that these cookbooks are no less than the top food shows on television.
Image Courtesy: muffin.wow-womenonwriting.com, annesfood.blogspot.in,
TV Show Cookbooks Entertain Fans All Over Again