Nestle's 'Mysterious Temptress' Entices Candy-Lovers
2 Mar 2012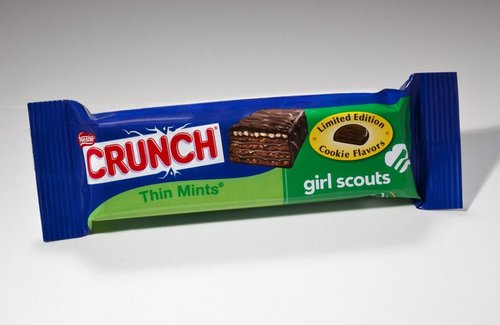 The sales sample of the Crunch Girl Scout Candy bar is proving to be quite the "mysterious temptress." The sample, floated by Nestle on Reddit, has the candy lovers in a tizzy and the company is more than happy with the response. However, be informed that the candy bar will take some time before it is available in the stores.
1) The Mysterious Temptress
The sample image was first of all shown on Reddit after a website visitor shared it online. However, even after a widespread search was launched on the Internet, no other information was available about the Nestle Crunch Girl Scout Candy bar. Disappointed at this, the candy lovers, especially the ladies at Jezebel, thought it to be a false alarm. However, the rumors were proved right as soon as it was known that the image of the Thin Mint-Nestle Crunch hybrid was a sign of the things to come.
2) The Official Word
One thing is for sure. The Nestle Crunch Girl Scout Candy bar is not available in stores yet and it will be sometime before the candy lovers will be able to enjoy the dark chocolate cookie wafers with mint chocolate crème, and airy crispies. However, the candy bar is not too far in the future as the official word proves it, "We (Nestle) are thrilled with the positive response to the Nestle Crunch Girl Scout Candy bar. The product photo is a retail sales sample and not available for sale at this time. Look forward to some very exciting news in June."
3) The Girl Scouts
Although there is still time before you can enjoy these candies, it is also true that there are better things in store as the Nestle spokesperson points out when asked about whether there will be more candy bars with other Girl Scout cookies too, "It is a surprise!"
The excitement is palpable and it wouldn't be long before the Girl Scout candy bars are in market. Which one would you buy first?
Image Courtesy: kolafm.com
Nestle's 'Mysterious Temptress' Entices Candy-Lovers