'Clicks & Cravings' – Social Media Is Making You A Slave
2 Mar 2012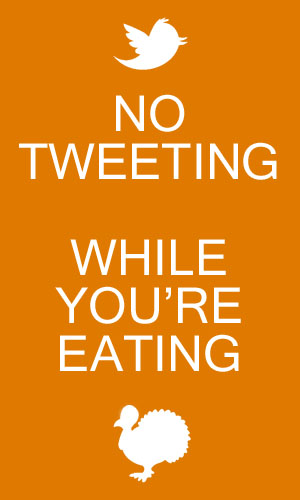 Social media is taking your dining habits hostage and is making you a slave of modern technology. That is what "Clicks & Cravings: The Impact of Social Technology on Food Culture," a new study reveals as it analyses the tweets made by people while having their breakfast, lunch, or dinner. The study, commissioned by The Hartman Group and Publicis Consultants, was conducted over the course of December 2011 and it was found that 29% of online consumers use at least one social networking site while eating or having their drinks.
1) The Study
Among others, the 'Clicks & Cravings' study also observed the habits of the "Millennials," people within the age group 18-32 years and found that as much as 47% of the Millennials used a social networking site while eating and drinking. However, it is not only casual networking that the Millennials are indulging themselves in. They are more likely than others to consult online media while seeking recommendations for new recipes or new restaurants. However, the Millennials, or for that matter all consumers, are not turning to just anyone for the advice. They seek and accept advice only from stylish people, not just stylish brands.
2) Why is it So?
Explaining this trend, Laurie Demeritt, president and COO, The Hartman Group, says in a press release, "Digital food selection is less of a sensory experience and more of a visual and rational process: What's on the label? What's in the recipe? Show me the picture." Explaining further, Demeritt says, "The 'table for one' rarely exists anymore, even among single people eating alone at home. If you are eating alone, chances are you are also texting friends who live miles away or posting food photos to a review site."
3) Social Media Behavior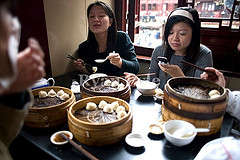 The study mainly declares that the social media is changing the food culture as it continues to have greater influence over what consumer think, talk, or experience through their food. The study says, "With the clicks of our fingers, social media alters the entire lifecycle of a meal from planning, to buying, to cooking, to eating. As consumers use social media to discover, learn, and share information about food, they quickly become more active participants in food culture." Bloggers are the most sought after opinion-leaders when it comes to food advice. Brands are taking a back seat in this social revolution centered around food.
Whether or not this tweeting is a bad habit or not is yet to be concluded. However, the Hartman study is probably telling you what you have already known for years. Social media networking is taking over human lives in ways unknown before and it has now taken over your dinner time too. Just make sure that you hold the fork correctly!
Image Courtesy: jacketflap.com, crafterminds.com
'Clicks & Cravings' – Social Media Is Making You A Slave