Talented English Designer Creates Full English Breakfast Cake And More
2 Mar 2012
Is it a cake or is it a full English breakfast? The people may be confused but then that is what the 38-year-old cake designer, Paul James, set out to achieve through his maverick, interesting, flabbergasting, and delicious cakes. For instance, one his cakes can double up as a full English breakfast, complete with bacon, sausage, fried eggs, black pudding, and fried tomatoes on the side. However, a closer look reveals that it is in fact a designer cake. But that is just one of his many designs, which have enticed cake-lovers. Do read on for more...
1) Paul's Creative Cakes
Paul set up his company, Paul's Creative Cakes, from his home in Colchester, Essex. He started spending hours, carving each design painstakingly, till it reached the wacky and weird limit. One of his most prominent creations was the full English breakfast, complete with a knife and fork. The cake also had a bottle of Ketchup, salt & pepper, and a napkin on the side. However that was not all from his side. Speaking about his journey from oblivion to fame, Paul says, "I was a chef for 22 years and I began making cakes for friends and family after being asked to take control of the pastry section at work. When orders started getting more regular, I decided to start making cakes full time."
2) Paul's Wacky Designs
There is no dearth of cake designing companies in the world but Paul's designs are different in the sense that they are images taken from everyday life like an ice-cream sundae, a half-eaten picnic, and an oversized biscuit. Paul really pushes the envelope when it comes to designs and his wacky designs are impressive enough. So far, he has designed a giant custard-crème biscuit pack, half opened, half eaten, even with biscuit crumbs visible. One of his endearing designs is a yarn, half complete on a set of knitting needles. The multi-colored woolen strands give it the feel of a real woolen and the effect is multiplied with descriptions like "100% Polyester," "100% Lambs Wool," and "100% Cotton." The cake is completed with an extra set of knitting needles as well as knitting thread along with little needles sticking out of the rolls.
3) Working Hours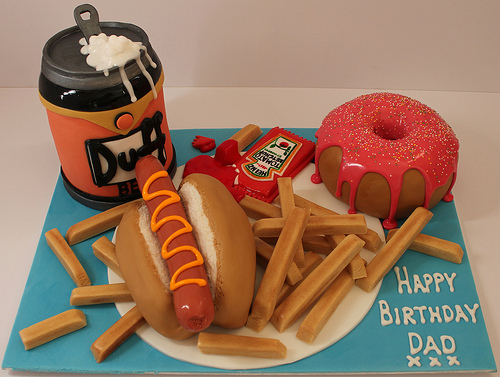 Paul's creative cakes are a hit among his friends and acquaintances but that is not the end of the story. He bakes cakes for all occasions right from Mother's Day to Birthdays and from Christmas to Valentine's Day. He delivers the cakes himself and often works extra hours to fulfill the orders. He says, "At the moment I work in my own kitchen at home but I would love to have a shop or bigger place one day." He uses sponges, flavored with different ingredients and covers them in butter cream, icing, fondant, and jam to create various effects. His cakes start at £35 and go up to as big or extravagant the design is. Paul usually takes anything from a couple of hours up to a week to complete his cake.
4) The Fairy Tale Story
One of Paul's most ambitious designs was that of a fairy tale castle, which measured 6ft by 4ft and had to be taken to the venue in two separate cars. Paul has been receiving orders from all over the country, with people often pitching in with their own ideas to design a cake. As if to test Paul's creative skills, people have asked him to design cakes after a Dyson Hoover as well as a chicken fajita. However, Paul's favorite design remains the ice cream sundae."
One of Paul's ardent customers, a young lady made a seven-hour round trip to pick up her order. When asked if she would do it again, she said, "Happily." That is what makes the efforts of this maverick cake designer worthwhile. In case you are feeling inspired enough, you can use these easy cake decorating tips to start your own business.
Image Courtesy: cakesandsugarcraftshop.com, neatorama.com
Talented English Designer Creates Full English Breakfast Cake And More