'Dreams Of Food' Come True With Audrey Scagnelli's Food Magazine
2 Mar 2012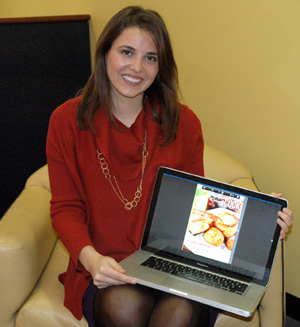 As a teenager, Audrey Scagnelli often dreamt of food. And she is still just out of her teens but those dreams  have come true with her food magazine, 'College & Cook.' She has developed and published this magazine, which is, in effect, a nationwide online effort to target the college students in the US, estimated to be about 20 million in total.
1) College & Cook
Scagnelli is just 20 and she has already brought out the inaugural issue of the magazine, with help from about 20 University students across the US. About the inaugural issue, Scagnelli says, "Everyone's excited. I very strongly feel students should remain a part of the production of C&C." With that, the young student seals the fate for any media moguls, who may be thinking of making an offer to her. She is in no mood to sell the magazine. The magazine is engaging and it deals with such diverse subjects such as a sustainable-food project at Yale, kissing with food allergies, and making 5-minute cakes in a shot glass. There is a little help by way of a playlist, which the students can play while cooking. The features are brief and the layout is interesting with illustrations as well as photographs to hold the attention of the readers.
2) The Food Fanatic
Scagnelli has already spent a summer, traversing through Europe, in search of cuisines and different tastes, to enrich her experience before she started with the magazine. After returning from the backpacking tour of Europe, she spent about 8 months to zero in on the magazine. Her enthusiasm for food and her college life is evident in the inaugural editorial, in which she writes, "We're a bunch of college kids who love food, live for it, live to enjoy it… we're sick of being stereotyped by easy mac and cold pizza. We're worried about record child obesity and the underfunded FDA." Now who ever said that the young generation is not sensitive or mature should go eat a pie first.
3) Her Journey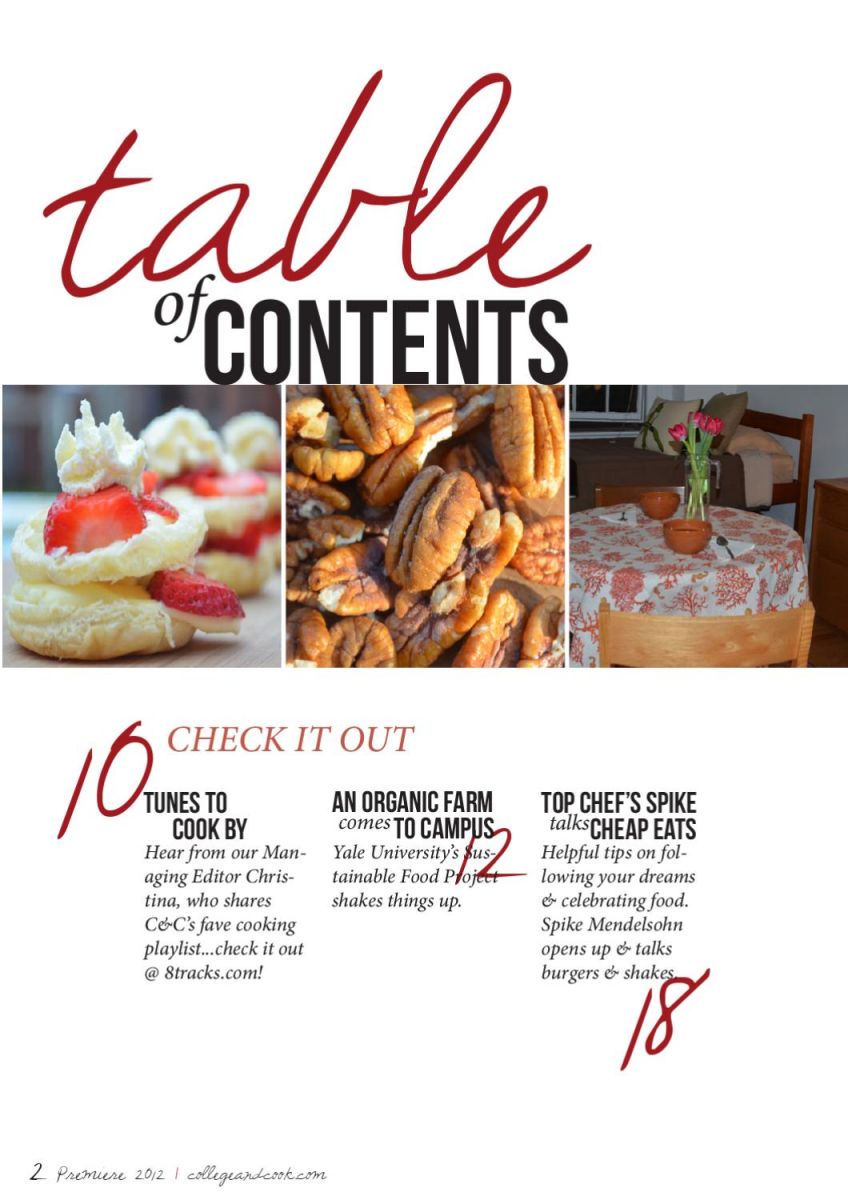 Scagnelli's journey was characteristic, just like her personality. She took advice from her professors, acquaintances, who were already working with online publications. She also sought suggestions from her friends as well as her acquaintances on Facebook, who themselves were from different universities like Washington University in St. Louis, the Univeristy of Wisconsin at Madison, and Atlanta's Le Cordon Bleu. She also took inspiration from Penn Appetit, the campus food magazine published in the University of Pennsylvania. One of her contributors, Crystal Williams, who studies at Le Cordon Bleu, says, "I though it was a great idea." Scagnelli had to learn how to use a page layout program, which she did while serving on the yearbook committee at her high school in Gainesville, Florida. One of the professors put Scagnelli in touch with other alumni students who were editing their own food publications. Noticeable among these were Rebecca Wilson of 'Julep' and Vanessa Maltin Weisbrod of 'Delight Gluten-Free' magazine. She still spends Fridays working at the Delight Gluten Free Magazine, which helped her fine tune her skills as an editor. She basically worked with lots of ideas, a 15-inch laptop, and zero budget but still managed to compile an 86-page book for the inaugural issue.
4) The 'Politics of the Kitchen'
For the sophomore, majoring in Political Communication, Scagnelli had a life-changing experience when she enrolled for a freshman seminar titled, "Politics of the Kitchen." It was this experience that finally inspired her to start a food magazine, which also married her two passions – her love for food and her love for communications.
It has been a short time since the College & Cook was launched but it already has 2,200 readers online. The publicity has been word-of-mouth only and the magazine is available online, which makes it easy to read and share. According to Scagnelli, "Creating College & Cook definitely has been an adventure, but it has been amazing to work with so many talented people and to see the magazine come to fruition. My dream is that College & Cook becomes the go-to publication for college students interested in food." Her dream will definitely come true as she has already shown. The next issue of the College & Cook will be available in April. The magazine may not teach you how to become a good food writer, but it surely will teach you how to become a good reader.
Image Courtesy: blogs.columbian.gwu.edu, issuu.com
Disclaimer: The image copyrights belong to its owner. The usage of the image in this blog is purely for the entertainment purpose. No copyright infringement intended.
'Dreams Of Food' Come True With Audrey Scagnelli's Food Magazine