Pizza Brain: World's First Pizza Museum Comes To Philadelphia
27 Feb 2012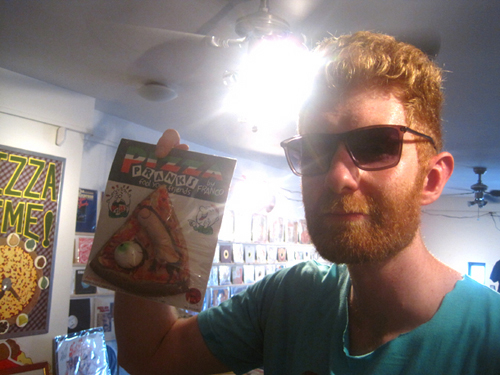 Philadelphia is, arguably, the rising pizza capital of America and its arsenal just got bigger with the world's first pizza museum to be opened here soon. Pizza Brain, the brainchild of a 27-year-old Brian Dwyer, will showcase pizza-art, pizza-memorabilia and many such interesting items. It is believed that with this museum, Philadelphia's pizza status will receive further boost after an initial impetus was provided by pizzerias like Barbuzzo, Taconnelli's, and Pizzeria Stella.
1) Why Philadelphia?
Everybody knows that Philadelphia doesn't have much to show as far as pizza is concerned. Except for a few respectable choices for the pizza fans, the city is clearly lacking as far as qualifying for a pizza location is concerned. There are other cities in America, which are known as great pizza cities, like New York, Chicago, and Providence. These are the cities that serve the pizza-mongers with aplomb. But Brian chose Philly neighborhood Fishtown to open his museum and the only reason that seems viable is that it is because Brian lives here.
2) Why Pizza Museum?
Brian is a Guinness record holder for having the largest collection of pizza memorabilia in the world. However, it is not because of some soppy reason that Brian was addicted to pizza ever since he was a child. No Sir! In fact, he was initiated into the pizza-mania only when he was in college. Slowly but steadily, he kept searching for great pizza joints and, on the way, continued to collect pizza-themed vinyl records, which he used to do up his music studio. Nevertheless, it was as late as in May 2010 when he, along with some of his friends, decided to host an art show based on the theme pizza in Fishtown. He had requested to his friends and acquaintances that they should create art based on pizza theme and bring it to the show. The event, titled "Give Pizza Chance," opened to about 300 guests and this set Brian thinking about the potential of a pizza-gallery.
3) Journey Continued
Going beyond the vinyl records, Brian started collecting many other items that told the pizza story in their own unique ways like magazines, comic books, etc. He even went online to scour online stores for such memorabilia. When his friends, acquaintances and complete strangers got to know of his fetish for anything that had something to do with pizza, he began receiving collective items from near and far.
4) Brian Speaks
In his own words, "When I started down this road, I said, I want to be able to display all this stuff in a pizzeria. And I thought at first that when we open, I'll make this funny bold claim that we had the biggest pizza memorabilia collection on the Eastern Seaboard, or maybe in America. As I started joking about that, my friend was like, 'Dude, you should see who actually has the biggest.' I assumed somebody had done this. So I did that: I typed in all sorts of search phrases into Google trying to find the biggest collection, and nothing came up. I was shocked. So I contacted Guinness, started going through all the regular channels, and got the record in July (2011)."
5) Brian Finds it Funny
For the record holder Brian, it is quite funny that nobody has attempted this before as he feels that world was much crazier about pizza since a long time. He says, "There are already museums dedicated to a bunch of other foods: mustard, ramen noodles. I guess the reason no one's opened a pizza museum before is that it's so obvious, so ubiquitous, that people don't think about it as the special thing that it is." In fact, to him as well, the idea of opening Pizza Brain came only last fall.
6) The Work He Did
Brian started with renovating a 19th-century building in his neighborhood and it was Ryan Anderson and Joe Hunter who collaborated with him on this project. Although, there is still a lot of work to be done and a lot of red tape to be handled before the museum ultimately starts, Brian is also facing a bit of money shortage for which he has requested the general public to pitch in.
Despite the fact that government is demonizing pizza continuously, pizza is, arguably, the most popular fast food item and everybody loves it, irrespective of their age group or social background. Once the Pizza Brain opens in Philadelphia, it will, no doubt, add a new feather to the city's cap and, yes, of course, the museum will also serve pizza to the visitors. In case you want to earn a chance of a free personal pizza and a drink, you need to contribute to Brian's Kickstarter campaign.
Image Courtesy: slice.seriouseats.com
Disclaimer: The image copyrights belong to its owner. The usage of the image in this blog is purely for the entertainment purpose. No copyright infringement intended.
Pizza Brain: World's First Pizza Museum Comes To Philadelphia