Hollywood's Best Onscreen Food Fight Scenes
27 Feb 2012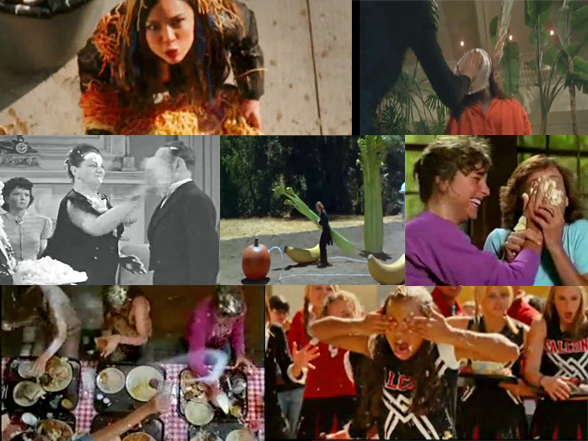 Cinema and food go hand in hand and this relationship is evident in many funny food scenes filmed and shown onscreen in the past. The onscreen food fight scenes are another link in this chain, which prove that both films and food elicit a favorable response from all human beings. Ratatouille' is a fine example in this case. Taking the story forward, here are some of the most loved food fighting scenes shown in cinemascope:
1) Little Darlings
The scene is set in a summer camp and the food fight between Kristy McNichol and Tatum O'Neal is seriously edible to watch. What's more! The scene also carries a cameo by a little Cynthia Nixon.
2) Dawn of the Dead
Don't get misled by the title of the film, there is a food fight and it is very comical. Well, what could be funnier than zombies facing pies?
3) Blazing Saddles
Made in 1974, this Western comedy feature film has a violent food fight scene and it is quite a joy to watch Gene Wilder getting a pie in the face.
4) Bratz
This is one food fight scene, where the battle cry, "fooooood fiiiight!!" rings out even as participants belonging to different social strata entangle themselves and each other in spaghetti strands.
5) Three Stooges
You all know that this list would be incomplete without a food fight scene from the Stooges' movie. So here it is:
6) Sleeper
No one know comedy like Woody Allen and though his type of comedy is subtle, this food fight scene is anything but subtle.
7) Animal House
This 1978 college movie shows John Belushi spraying mashed potatoes with his mouth as well as pastries toppling over.
Hope you enjoyed watching these delectable, yet, sometimes gross, food fight scenes from some of the classic movies. This list is also a homage to the Oscars Awards ceremony to be telecast on February 26, 2012. In case your favorite food fight scene is not included in this list, do send in the same in your comments. Let's make the list longer.
Videos Courtesy: youtube.com
Image Courtesy: blog.cookingchanneltv.com
Disclaimer: The image copyrights belong to its owner. The usage of the image in this blog is purely for the entertainment purpose. No copyright infringement intended.
Hollywood's Best Onscreen Food Fight Scenes