Japanese "Houdini" Wins 20th Annual Wing Bowl Contest
7 Feb 2012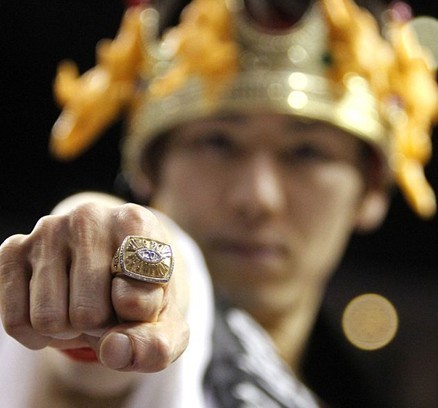 Japan's Takeru Kobayashi, who was half the size of his competitors, has won the coveted '20th Annual Wing Bowl' competition by eating a record-breaking 337 chicken wings in a sitting that lasted all of 30 minutes. With this, he also broke the previous record of Jonathan "Super Squibb"  who had managed to eat 255 wings and has been winning the gluttony contest for the last three years in a row.
1) The Wing Chaser
Kobayashi devoured the chicken wings in presence of more than 17,000 spectators, most of whom were chugging beer and goading the Japanese lad on, at Wells Fargo Center, an indoor stadium. The early morning extravaganza has the contestants gorging on most chicken wings in least time to earn the coveted title. Kobayashi won the contest defeating the local favorite at the Philadelphia contest, the 330-pound Bill "El Wingador" Simmons, who has won the championship five times. On his part, Squibb, who was looking at his fourth consecutive win, was left way behind at 271 wings.
2) Eating Wings For $20,000
Kobayashi ate the most number of wings to earn $20,000 in cash prize, however, that is not all he won. He proudly showed off the WingBowl 20 prize ring too, which he won along with the title and the cash. Before this, he has also participated in the Nathan's Hot Dog contest and won the championship six times. Thank God that he no longer participates in this contest because of some dispute over his contract. It was his first time at the Wing Bowl. In another eating competition, Kobayashi ate a cheesesteak in 24 seconds flat. Weird, ain't it? Well, as of now, he seems to be the right candidate to try all the junk food world records in the world.
3) Man With A Huge Appetite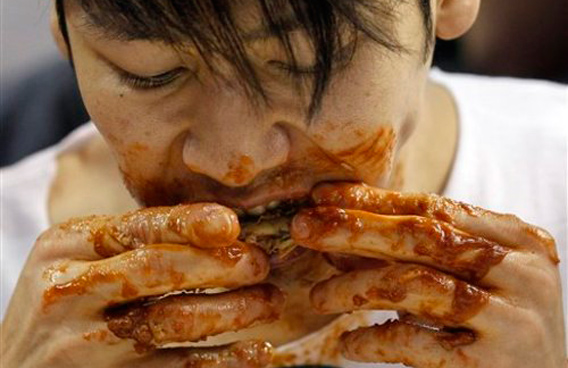 You would say so too if you knew that besides the chicken wings, the hot dogs, and the cheesesteak, this young man has also scoffed off a 7.5lb turkey in just 10 minutes just before Thanksgiving last year. At that time, Dan Rollman of Recordsetter.com had this to say, "Never in my life have I witnessed food disappear like that. The ma is true culinary Houdini." That is not all, Kobayashi also managed to finish 14 Twinkie bars in 60 seconds as part of Save the Twinkie campaign after the Hostess company (makers of Twinkies) went bankrupt.
When you look at Kobayashi's BBQ sauce-smeared mouth and the look of pride on his face as he wore the crown and showed off the WingBowl ring, you can't help but agree with Rollman that the man is, in fact, somewhat of a "Houdini." Nevertheless, the Super Bowl weekend became a talked about event with this piece of news.
Image Courtesy: emirates247.com, whatsonsanya.com
Japanese "Houdini" Wins 20th Annual Wing Bowl Contest