Tango With Mango: Celebrating The Arrival Of Indian Mangoes To The US

iFood.tv and Chef Vikas proudly present a unique culinary event, "Tango with Mango" in the heart of Manhattan. The event celebrates the joy of Indian Mangoes, which finally arrived in the US
Close on the heels of the recent revival of the export of Indian Mangoes to the US, globally renowned Chef Vikas Khanna (also a featured ifood chef) and iFood.tv, a rapidly growing new media food video community, is organizing the 'Tango with Mango' food tasting event at the stylish Purnima restaurant on June 28th, 2007.
 
In this unique culinary event, Chef Vikas Khanna will leverage his expertise to showcase twenty juicy, mouth watering, sumptuous Indian Mango recipes spanning appetizers, entrees and desserts. He will also address the attendees on the heritage and variety of Indian mangoes. Several famous chefs in the tri-state area, food industry representatives, the media and local food enthusiasts will attend this truly one of its kind events.
Some of the delicious recipes to be exhibited and served at the festival include:
Mango and Peanut Stuffed Jalapeno
Mango and Puff Rice with Tamarind and Mint
Pastry Puffs topped with Mango Powder and Onion Seeds
Raw Mango and Spinach Fritters with Chai infused Mangoes
Mango and Chickpeas Salad on Wheat Crisps
Mango Soup with Champagne and Passion Fruit Sorbet
Mango Mousse with Cardamom and Caramel Tuiles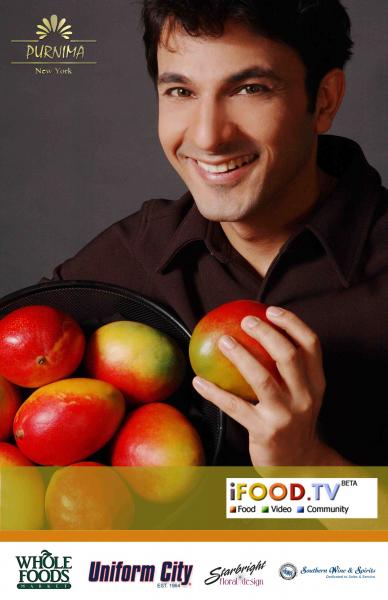 Speaking about the concept of the 'Tango with Mango' festival, the founders of iFood.tv and Vikas Khanna explain, "This festival is our tribute to the much awaited resumption of the export of Indian mangoes to the US. After two long decades, Americans can now savor the taste of Indian Mangoes, which so far have been feasted upon by millions around the globe. This festival is a platform to showcase and popularize a host of different forms in which to enjoy this king of fruits from India. "
In May 2007, the first shipment of Indian Mangoes arrived in the US after two decades. With over hundred varieties of Mangoes grown and cultivated in India, it is the national fruit of the billion plus country. Globally, India leads the production of Mangoes, producing 14 million metric tons and accounting for more than half of the worldwide production of 25 million metric tons.
"It gives me immense pride and pleasure to host this unique event which promises to enrich your Mango experience in a truly Indian way", adds Vikas.
If you are one, who has heard about the amazing Indian mangoes but never got a chance to really taste them, then this is an event you don't want to miss. And for all our global foodies, who cant attend the event in person, dont be disheartened; ifood.tv will cover the entire event and will make the exclusive videos of Chef Vikas making these recipes available on the site. You can get a sneak preview of the recipes being prepared for this gala event. Chef vikas and his team spent four full days to taste several recipes before finalizing the menu.
The gala celebration will also include a live performance by the upcoming jazz singer, Meeta Challani and a stand up comedy performance by the famous Daniel Nainan. The Event is expected to be attended by several media personalities, food indsutry representatives and chefs.
Stay tuned for regular updates and videos of the recipes and the event.
Main Sponsor:
Purnima Restaurant
245 W 54th Street
New York, NY
Special Thanks to: