The Many Ways To Use SignUpGenius
19 Jan 2012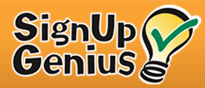 When Dan Rutledge created the SignUpGenius  website in 2008, he had not imagined the ways in which his website would be used. In the past three years, Rutledge has found that there are indeed many ways to use SignUpGenius, which even he had not anticipated. The knowledge that his website can be used for more than just a means to track soccer-game snacks and church functions has made Rutledge humbler even as people continue to devise unique applications for his website.
1) What is SignUpGenius?
When Rutledge started his website in 2008 as a 36-year-old looking for a "better system to keep track of snacks and community functions," it was free for users and, probably, one of a few such websites. Since then, there has been a positive growth in the number of such websites even as the public demand for them increases.
2) Its Wonderful Uses
From progressive dinners to organize a fundraiser for a sick person, this website works out everything. The site is easy to use and users can take help from how-to videos while "Planning Resources" for themselves. Some of the wonderful uses of SignUpGenius are:-
Planning snacks for your Super Bowl party.
Planning your New Year resolutions.
Organizing a meal sign up for a needy person.
Organizing community activity.
All this makes Rutledge say, "I never expected something like that, and it's very humbling to be able to help in those kinds of ways."
3) A Case in Question
The SignUpGenius is one of those useful websites, which are actually making a difference to our lives and not just forcing us to while away our time without any benefits. A case in question could be that of the Pryors, whose only son was admitted to the hospital for a crucial surgery, owing to which the Pryors were in need of help from family and friends. However, the family did not ask anybody for help. So, one of their friends signed up on the SignUpGenius and organized a meal coverage plan, under which kind friends of friends or complete strangers could also sign up and donate a meal for the Pryors. In this way, for almost six weeks, the Pryors would return home to find meals left for them, along with compassionate messages, even flowers.
Modern technology is often ridiculed for many things but this is one aspect, which should be appreciated because it brings out the humanity in us. Based on the principles of kindness and charity, the SignUpGenius seems to be the right way to spread cheer in the world.
Image Courtesy: signupgenius.com
The Many Ways To Use SignUpGenius