Funny Food Ads: Amul Moppet Steals Hearts
3 Jan 2012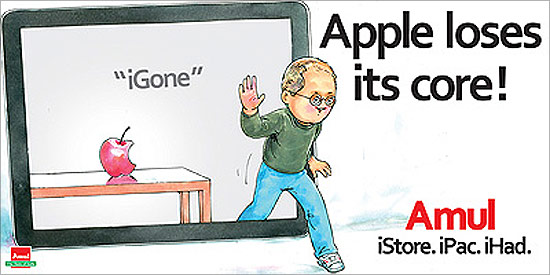 When Steve Jobs left this world last year, he left a legacy behind. This legacy is best represented in an advertisement published by Amul, an Indian brand, which has catered to the daily needs of millions of Indians for the past more than half a century. However, the Steve Jobs' ad is just a part of the brand's magnificient campaign, which has been running for more than 50 years. For most of those years, a round-eyed, chubby-cheeked Amul moppet has been winking at Indians, from print campaigns, hoardings, cinemas, etc, coaxing the populace to slice into a thick wad of the "utterly-butterly" Amul butter instead of making it at home.
Today, brand Amul is synonymous with that moppet and her endearing ways, reflected most often, in the form of cheeky takes on the happenings in everyday life. Here is a journey through the decades, which will tell you what makes Amul campaign one of the most enduringly special in India.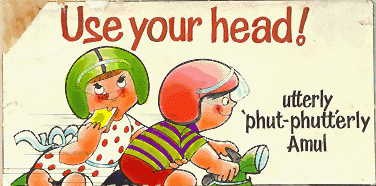 1) This ad came out when authorities made helmets compulsory for two-wheeler riders in Mumbai (then Bombay). The "phut-phutt" is synonymous with the noise made by the earliest two-wheelers.
2) This ad was released in 1981, when the Holllywood blockbuster, starring Dustin Hoffman, Kramer Vs Kramer, created waves.
3) Released in 1983, the ad portrays the UN International Year of Child.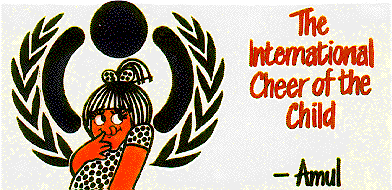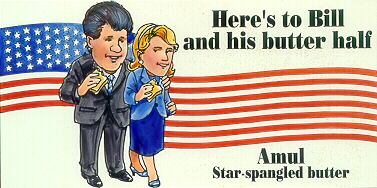 4) This Amul ad came out in 1992, with former US President Bill Clinton coming to power.
5) Giving vent to its social responsibility, Amul launched this campaign against "unleaded" petrol. 
6) When Indian batting maestro Sachin Tendulkar went to meet Aussie great Sir Don Bradman, Amul captured the moment for posterity.
7) In March 1997, Greek composer, Yiannis Hrysomallis (popular as Yanni), performed at the Taj Mahal, and also on the Amul ad campaign. 

Some of the more recent Amul ads that have caught public eye are:-
8) The Indian Government launched a $35 laptop for mass use among Indian students and Amul paid its tributes.
9) Not to forget its mentor, Dr. Kurien, Amul wishing him on his 90th birthday. 
10) Finally, a wish for the New Year 2012, Amul's New Year ad.
With advertisements such as these, Amul has touched a million hearts and has become the largest food brand in India. Which one did you like the most? Do tell us more about your views on the Amul moppet and its tongue-in-cheek satirical ads. 
Images Courtesy: amul.com
Disclaimer: The image copyrights belong to its owner. The usage of the image in this blog is purely for the entertainment purpose. No copyright infringement intended.
Funny Food Ads: Amul Moppet Steals Hearts