5 Weirdest Jewish Snacks
27 Dec 2011
Jewish snacks are guided by  certain set of rules that ensure that they remain Kosher. Every food item from the Jewish cuisine has a distinct and delightful taste. If you are wondering why these are weird, let me tell you that they are part of this list just because of their bizarre names. Are you ready for the journey? Let's start …
Top 5 Strangely Spelt Jewish Snacks
1. Hamantash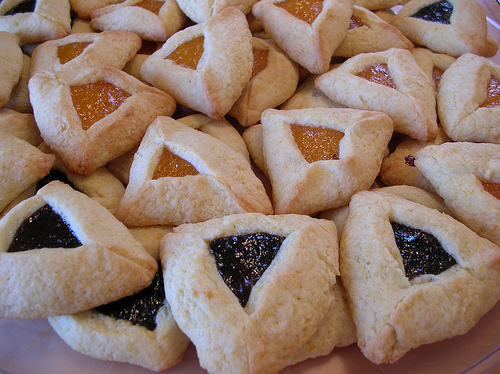 These are turnover or cookies stuffed with black poppy seeds and honey paste or fruit preserves. A must include recipe for the Feast of Pruim, the triangular shaped cookies have a look resembling the hat of the tyrant, Haman.
2. Teiglach
One of the traditional Rosh Hashanah foods, these are little dough balls looking akin to marbles. Slathered in honey-flavored syrup, these goodies are believed to welcome the sweetness New Year bring with them.
3. Sufganiyot
A Hanukkah specialty, this odd-named delicacy is very tasty. Deep-fried donuts are stuffed with custard or jelly and then, embellished with powdered sugar. These make lovely treats for the "sweetaholics".
4. Fazuelos
Also known as deblas, these are classic Jewish pastries. They are quite similar to Homentashn, and are believed to resemble the ears of Haman. You get them in two variants – the Turkish version that comes with brandy and the Moroccan ones, flavored with cinnamon and syrup.
5. Blintzes
The name sounds as if we are confronting blindfolds. These are nothing but the Jewish version of crepes. They are stuffed pancakes and are available with sweetened cottage cheese or mashed potatoes and onion or fruit fillings.
Each of the Jewish snacks is an adorable treat for an ardent food lover, with many of them being modified classical American recipes. So, you can try them out without any presumptions!
Image Credit: faduelos.com, wikipedia.org, ifood.tv, jewishfood.wordpress.com, urbanfeed.wordpress.com
5 Weirdest Jewish Snacks