Century Old Pudding On Display

22 Dec 2011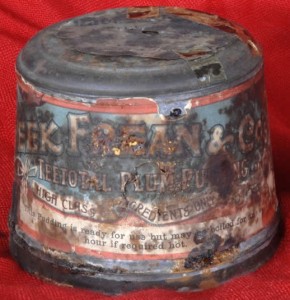 Would you be interested in paying for being allowed to gaze at a tinned pudding? I'm sure you would be more eager to have it on your plate instead. But the National Royal Navy museum at "Portsmouth Historic Dockyard" has such a pudding on display. It is believed to be the oldest pudding in the world that has survived for 111 years!
The pudding had been lying safe within the close confines of a cupboard in Britain until a widow chanced upon it after her husband's death.  It was destined for the Naval Brigade, fighting the Boer War in 1900, but had never been sent.
The woman called Victoria Ingles, the collection manager at the museum and inquired whether they would be interested in obtaining a pudding in a tin. The century old pudding has managed to survive quite well and you can still make out the writing on its labels. A special greeting from Agnes Weston popularly known as the mother of the Royal Navy is also visible on the tin. The "Peek, Frean & Co's Teetotal Plum Pudding " was prepared with high class ingredients but no brandy and the tin features a picture of children holding out their plates for second helpings, a la Oliver Twist.
The pudding will be conserved carefully over a period of time but that will certainly not prevent you from taking a look at it. It will remain on display meanwhile and you are free to satisfy your curiosity as long as you don't attempt to taste it.
Image Credit- thehistoryblog.com 
Disclaimer: (The image belongs to the website thehistoryblog.com  and will not be used for commercial purposes) 
Century Old Pudding On Display